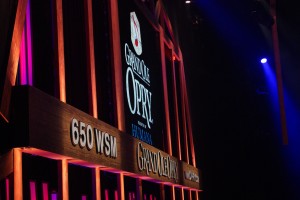 I've been down in Texas working most of the last two months. In a week, I fly back to work another 3-4 weeks as we finish out the income tax filing season.
But for right now, I am home in Nashville, spending time with my husband. Tonight, I got to dip my toes back into our life with his playing the Grand Ole Opry and heading out on the road for a one-off to Florida. (One-off being the term for one-show in a run.)
First, I LOVE THE GRAND OLE OPRY. Its seriously one of the only places I would drop pretty much everything to go to work for… The people. The vibe. The history. Everything about it just feels like a great big hug to me when I walk through those doors of the Opry House.
As an added bonus tonight, one of my husband's former employers was on the bill as well. So it was big hugs to old friends in that camp as well, most of which I literally haven't seen in well over a year — if not almost two years!
Second, I absolutely love everyone my husband works with. I really do! Its such a cool hang, and everyone treats me as one of the group. I totally put my hair down around them and its just like a big family… one that runs down the road at 65 mph in a big tour bus.
And even though allergies are seriously kicking my butt, and today they really got me down, I left the Opry House tonight with a spring in my step.
Oh don't get me wrong… I thoroughly enjoy the work I'm doing in Texas. And getting to spend so much quality time with my parents is priceless. But it was SO nice to be reminded that this crazy life my husband and I live is always there, always comfortable, and its always waiting for me with open arms when I get back home.