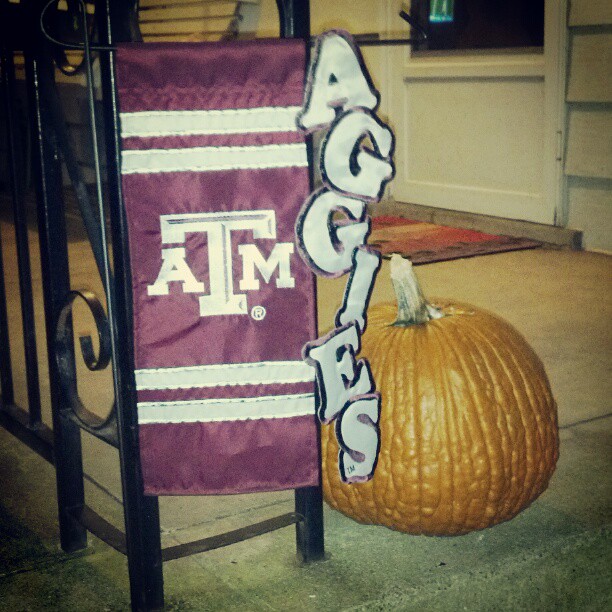 Back in August, I put my Aggie flag out by my porch.
Once an Aggie, always an Aggie.
I put it out feeling strongly we'd struggle this year. First year in the SEC. New coach. Everything in general said this would be a losing year. I didn't care… I am an Aggie in my heart and in my blood. I'd fly my flag with pride.
Then… then we started winning. What?
Then Heisman talk started for our Freshman QB "Johnny Football."
I started getting high fives in the bar on Saturdays, when I wear my Aggie gear to work.
We beat #1 Alabama.
Even more high fives. Even more Heisman talk. Stronger talk. Stats started to be thrown around. Texas A&M has been making waves this year. Ranked in the Top 10 going into our last week of regular season play. BCS bowl speculations.
Tonight, we go into our game against Mizzou — fellow former Big XII team now in the SEC. We're favored to win, but I know better than to just expect it. Look at Alabama, Oregon and K-State this year alone.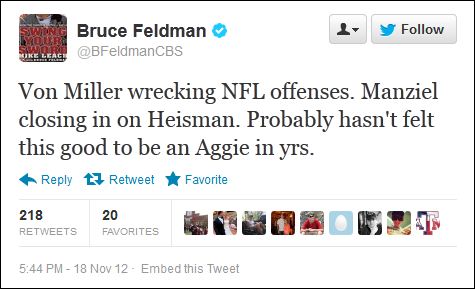 Wrong, Feldman. It's always felt good to be an Aggie. I've been proud to be an Aggie since the day I was born. We're having a good year, yes. VERY good year. But I'm proud of my school even when we're having an off year.
Win or lose. Always an Aggie.