You can rock it you can roll it
Do the stomp and even stroll it
At the hop...
Saturday night, the bar where I work had a Sock Hop in honor of the couple that has pretty much adopted all of us transplants to Nashville who call that bar our second home. They both were turning 55 within days of each other, and, as such, we celebrated with a Sock Hop!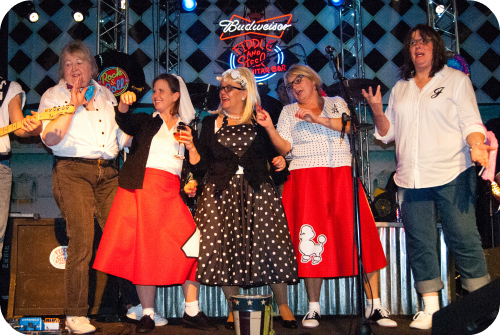 I'll be honest, when the idea first came up months ago, I went, "Uh… huh. Right. A sock hop." Too bad I wasn't still in elementary school, when I regularly rocked a poodle skirt and saddle shoes. (No really, I did! I just don't have a picture here to share of that… darn it.) But alas, I no longer had that outfit, and I was baffled what I would do to dress '50s style. So, I have to admit, I kind of ignored that it was going to happen at all.
I briefly planned to get my mom to help me make a poodle skirt while I was home for Christmas, but really… really? Who has time to add MORE to the Christmas festivities!? That didn't happen.
Before I knew it, I had only a few days to get my outfit together. A friend mentioned that there were vintage stores around town, so I decided to Google "vintage stores Nashville." That search eventually led me to Hip Zipper, a vintage store in East Nashville. I seriously fell in love with this store. GREAT vintage items at excellent prices (in my opinion)… and everything is of quality.  I will DEFINITELY be back.
I scored a grey skirt and a cuuuute pink sweater/shrug to wear. I paired that with a pink and a white tank top, a necklace that was my grandmother's, a headband I bought years ago from Victoria's Secret (but had never worn!), bright red lipstick and my hair in a mess of curls. A friend in the middle of the evening loaned me a pair of cat-eye glasses. I think I looked awesome: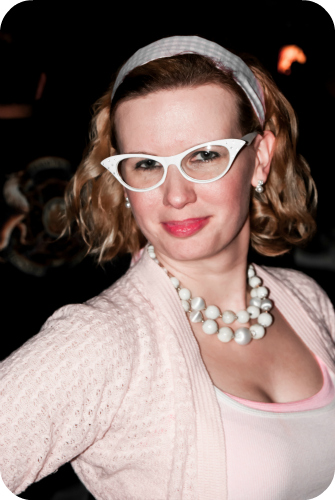 I have to admit, this just sparked a deep down love for everything 50s for me. It's made me want to go in that direction a bit more style-wise. I feel a little bad for my Pinterest followers the last few days being inundated with cute 50s dresses that I love and want now.
Anyway, I ended up having an absolute blast! I worked hard (my legs let me know all night long that I wore unsupportive shoes!), but also had the opportunity to play a little bit here and there, too. The night was filled primarily with regulars and "family" who came to wish the couple a Happy Birthday.
We did get a quick photo of all the ladies that usually work behind the bar… I so love this photo.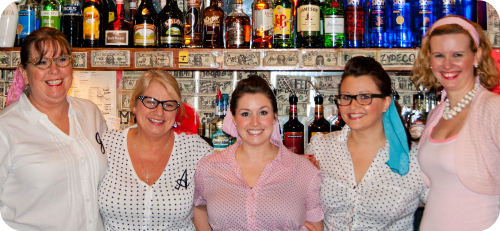 I don't just see a group of bartenders and friends here… I see smart, strong, successful women. All amazing in their own rights and in their own ways. They each inspire me, and to get this shot on such a fun night… just makes me SO happy.
In fact, that being said… I went into the evening a bit leery. I really did. But in the end, I found myself smiling from ear to ear to see all these people — all these successful adults — let their hair down, travel back in time to when life was simpler, and just have FUN.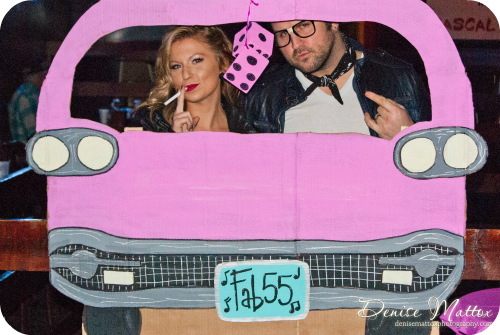 I remember in high school, you'd find yourself compelled to "act like an adult" and I remember even Halloween being snubbed as "childish" and "silly." Its funny how its taken growing up to realize that sometimes, acting like an adult means knowing exactly when NOT to take yourself so seriously. It's knowing when and how to enjoy yourself and the people around you. Especially at the hop.