People give me a hard time now and then about being an Aggie, and its always in reference to football. Now, I'm fine with light-hearted ribbing from friends about football, but when anyone makes a dig about Texas A&M and Aggies in general, I bristle. Quickly. Because there is so very much more to being an Aggie than the football team.
On November 18, 1999, the world's eyes turned to Texas A&M and for a moment… just a moment… the world got a glimpse of the Spirit of Aggieland. And they might not have understood, but they cared…
Instead of recounting anything from my point of view on Bonfire's collapse that day and how I felt then and how I feel today about it, I want to share this blog post from an Aggie, written in 2009.
Before you click that, though, I want to highlight two parts of that post:
From the letter sent to A&M from the University of Texas Student Body VP following the tragedy…Â For all us Longhorns discount A&M in our neverending rivalry, we need to realize one thing. Aggieland is a special place, with special people. It is infinitely better equipped than us at dealing with a tragedy such as this for one simple reason. It is a family. It is a family that cares for its own, a family that reaches out, a family that is unified in the face of adversity; a family that moved this Longhorn to tears.
Aggies are a family. And that's why it upsets me when I hear people slamming Johnny Manziel. I've never met him. I probably never will. But I don't care. He's an Aggie. And in that, he's family that I find myself defending time and time again. Â Now keep in mind, like family, we'll be the first to chastise a member. Case in point, when Von Miller had his legal woes this year, I felt deeply disappointed, and I watched on Twitter as Aggie after Aggie voiced similar disappointment and frustration. Some declaring they would no longer consider themselves a fan of his. We might be the first to defend, but we are also some of the first to shake our fingers at our fellow Aggies when they do wrong.
It's also why our hearts break and you'll see us all cry when we lose an Aggie family member… even one we don't know personally. Bonfire was particularly devastating. It happened on campus. It was/is a cherished school tradition. These were 12 young lives cut short, and many more left injured. Our hearts broke collectively.
But in every time of trial and heartache, we pull together and are reminded we're family. And that… THAT… is something so special it can't be accurately described in words.
The second part I want to highlight: …the Longhorn band's tribute was one of the classiest and moving tributes I have seen. Maybe their response to our tragedy is the reason that, even though they are our rivals, I still have such respect for the school as a whole…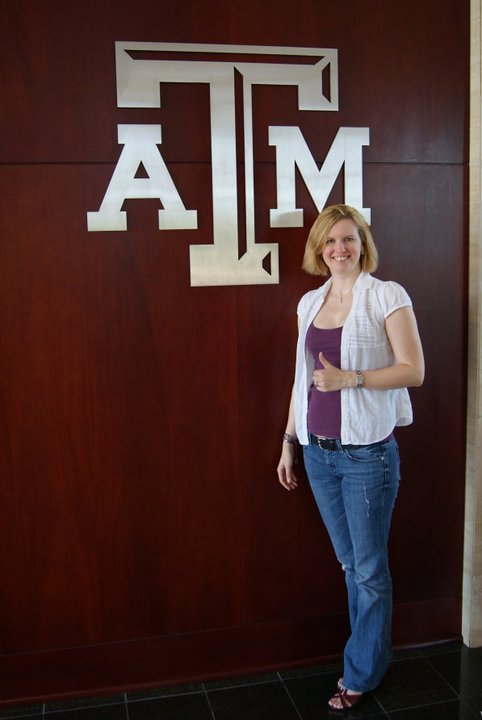 Alumni get it. I, too, have a deep down respect for the University of Texas and its alumni members. There are your bad seeds, sure. There are at Texas A&M, too. (Hey, every family has its members you go, "Yeah we don't talk about him much…" LOL!) But on a whole, you'll find major respect between alumni members of the two schools. I recently had a lighthearted and delightful banter with a Longhorn at work that left me with a spring in my step.
In fact, you'll find respect between members of alumni of MOST major universities. I've encountered the same respect working with alumni of SEC and ACC schools.
T-shirt fans, though… those are the ones that will throw out the asinine comments I refer to in my opening of this blog post. My most recent bristle being, "So how do you wear that [Texas A&M] ball cap without getting smacked!?"
Really?
I wear it with pride for SO MANY reasons… reasons that are deep in my heart. Reasons the person asking that question could never in a million years understand… not that they'd ever care to really listen in the first place. And those reasons are the ones that are why at 2:42 am on November 18th, I stop and take a moment to remember. Â Those reasons are why I put my heart of soul into Aggie Muster every year. Those are the reasons why I wear my Aggie ring with pride every single day, and why I make sure to speak to Aggies when I cross paths with them.
Roll your eyes if you want. I don't care. But I am an Aggie and I'm proud of that fact. Now go read that blog post and hear about what makes this day stand out every November from yet another Aggie.