I've talked in here quite a bit about loving the Grand Ole Opry. I've been lucky to get to go a lot the last couple of years, but I also never take my attendance for granted. I hold my breath every time I see the Opry show up on my husband's schedule… I hope to get to go.
Tuesday night, I honestly was braced to be denied entry. It was George Jones' 80th Birthday Bash, and I knew there would be big names even just hanging out. I fully expected extra tight security. I fully expected to be told, "No guests."
But instead, I got to go! TOO COOL! Just getting to attend the Opry and be backstage continues to be a surreal event. Getting to attend the Opry on such a big night? If there's a more dramatic word for surreal, that would be the word.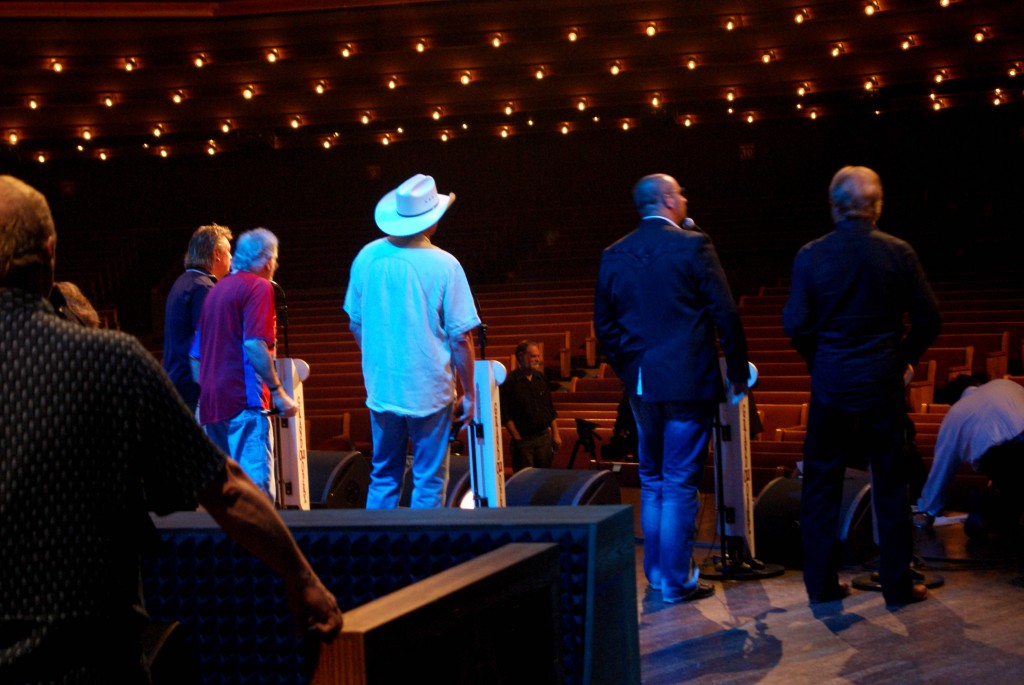 I was a bit surprised how many people were in attendance backstage — both artists and random guests. My expectation of it being tighter than ever seemed to be incorrect… which was equal parts really cool and a little overwhelming. Even in a place as big as the Opry, a lot of people backstage can get crowded quickly.
We saw lots of friends from other bands. It's always funny to me how we all live in the same city, but it takes a show sometimes to see your friends. .
It was, as I said, a mix of artists and random guests. I'm a funny one, I suppose. I just really don't ask artists for autographs or to take a picture with them. Oh, I do all I can to sneak a candid shot of them talking to someone else, or whatever. But to actually ask for a photo? Really not my style. (Which is precisely why I have only TWO photos with artists my husband has worked for… and one was because I took my cousin through the meet & greet one night.)
I'm not opposed to take a picture with an artist. I mean, the shots I have with Steve Cropper still make me grin ear-to-ear. But on a whole and in general… eh. Whatever. That mind set is precisely why I didn't get a photo with Carrie Underwood that night. Oh I could have asked. I mean, she was standing less than a foot away from me at times. But I just couldn't do it. I just couldn't interrupt her evening.
Similarly, my husband and I got a poster they were selling as a memento for the night. We both really wish we'd had George Jones autograph it. But we just couldn't bring ourselves to do it. As cool as it would have been to have, we both wanted to give him his space. He was getting mobbed enough, no need for us to join in the crowd.
I'm content with the photos I took during the show. I'm content just knowing I was there. I'm content having gotten to feel the vibe and have that experience.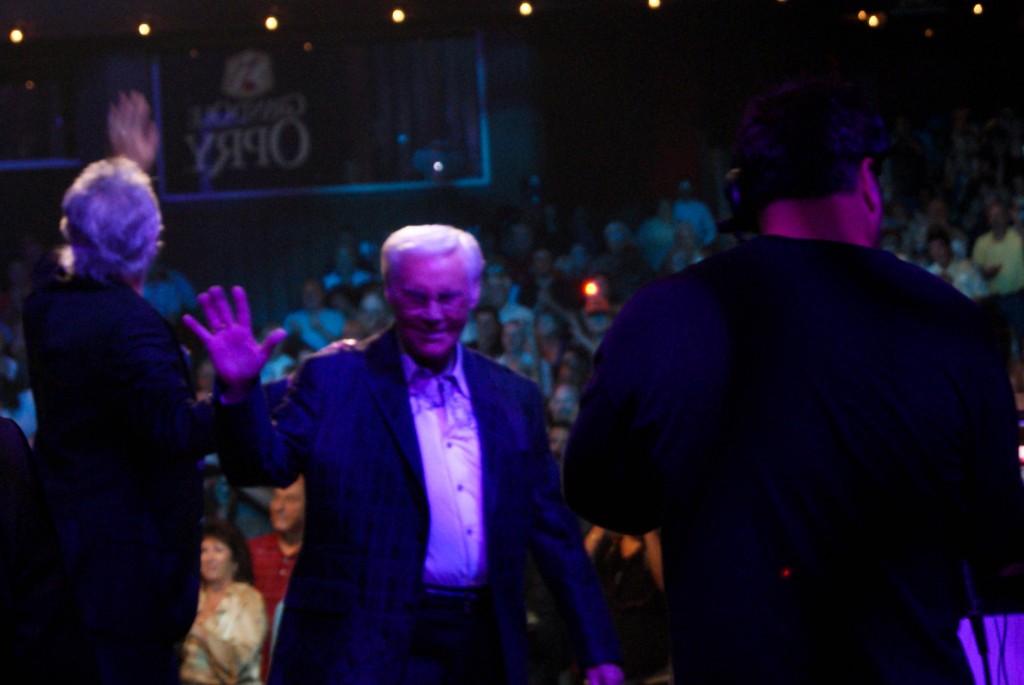 I guess you can call this one of those "married to a musician" perks. But definitely one I never, ever, ever take for granted. SO thankful to get to see such a great show. So thankful to be in attendance for such a special night.
This show will be televised in October (or so I've heard) on GAC. I have no idea what parts will make the show, nor do I know what parts will hit the cutting room floor — making room for backstage interviews, etc. I'll be curious to see how it comes out. And I'll watch going, "I was there!" and THAT is still too, too cool.