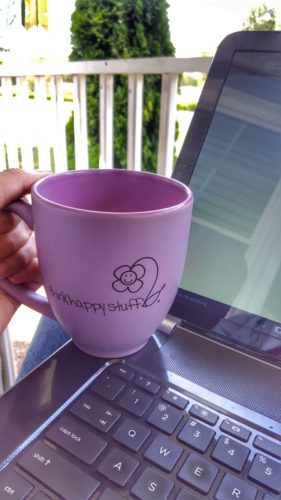 Two years ago, when we moved into our house, we quickly found our favorite thing to do every day: start the day with coffee on the front porch. I remember the first night in our new home, I got up and went to Panera for bagels and coffee. We enjoyed them on our porch, and the tradition began.
Summer and winter puts a damper on our front porch time, but spring and fall are perfect. It just sets my mood and day off right when I sip coffee with my husband and we watch the cars pass. We plot out our day. Maybe we will look at Facebook and Twitter until our phones are dead. Or like today, I'll grab my laptop and get a little work done.
I love my front porch. I had no idea how much I would love it when we bought our house, but its become one of my top five features… if not my absolute favorite.
We need to paint the railings, which is on the to do list this week. I'd love to install a ceiling fan, so maybe we could use it a little more in the summer. And we should probably reseal the concrete soon. But its all part of being a homeowner, and taking care of what you have. Taking care of your home.
I love the memories we've already made on our front porch… and I look forward to years of more memories. One cup of coffee at a time.