On Saturday, I did my third Color Run, the "Happiest 5K on the Planet."
Now, lets be honest here. It was chilly. It was drizzly. It was early (for me). And I might have been a little bit grumpy for awhile because of all of that. But ultimately, the satisfaction of completing the 5K once again, along with seeing so many other people who were so legitimately HAPPY, it was hard to not find myself smiling from ear to ear.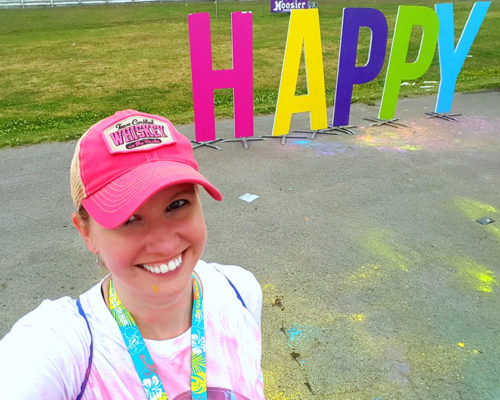 I found a piece of happy in this world full of upset.
I've been having a hard time finding inner peace and happy lately, and I lay a piece of the blame on the media. Everywhere I read these days — be in on Facebook, news sites, Twitter, etc. — all I hear about is how upset people are. The world of up-to-the-minute news and opinions has created a breeding ground for negative feelings to gain legs and run.
Drama sells. I get that. Drama is interesting.  But drama is also exhausting.
Last fall I read a great post by Molly Parker entitled 5 things the media does to manufacture outrage. It was an interesting piece that really opened my eyes to how media is constantly subconsciously telling us we should be upset about something.
Should we be upset? Yes. Yes we should. There are countless things we should be upset about. Big things. Big issues. But there are also a lot of things we could handle with compassion instead of with outrage. We could seek to work together and find a middle ground instead of immediately finding anger.
I like to be happy. I want to be happy. I AM HAPPY.  But, also, I am over it. I am over outrage that just doesn't make a whole lot of logical sense to me. I care. I care a lot about so many issues. But instead of getting upset, I seek to understand. As such, I want to focus on the positive things happening in life and learn from the negative. This is my goal, and its one I feel certain I can do.