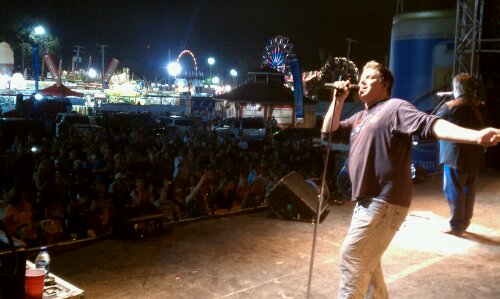 This last weekend, I road tripped to Little Rock, Arkansas to see my husband do a show at the Arkansas State Fair.  (It's half-way to my parent's house in Texas, so it worked beautifully to break that drive up.) My Texas A&M Aggies lost to the Arkansas Razorbacks the night before the show, so there was just a touch of wounded pride for me as I crossed the state line.
During the show, the artist my husband works for mentioned how cool Arkansas's Hog Call is, and the call was done twice through the course of the show, lead by one of the band members.
The Aggie in me was somewhat grudgingly going, "Rubbing salt in the wound!" But in reality, I had to admit… it was pretty dang cool to hear so many people doing the call:
Woooooooo. Pig. Sooie!
Woooooooo. Pig. Sooie!
Woooooooo. Pig. Sooie!
Razorbacks!
Truth be told, it reminded me a LOT of any of Texas A&M's yells, and I too got wrapped up in the fun, watching in amazement from side-stage.
I couldn't help but remember back eight years when I attended a concert in Waco, Texas, at the Heart of Texas Fair to see my friend (who would later become my husband) perform. Texas A&M just happened to be playing Baylor the next day, and, as is tradition, we would be holding Midnight Yell practice in the town of the game… which happened to be Waco. To further the irony, they opted to hold it at the fair right after the concert.
I watched the band clear their gear off the stage and promptly get stuck… they could NOT leave because of the hundreds of Aggies that had descended upon the venue. They wouldn't be leaving until after the Yell Practice.
The artist my husband worked for ended up running to get a video camera to tape the fun and craziness of Yell Practice as the Yell Leaders took over the stage. It was so much fun to watch my friend, his boss, and his co-workers stare at the crowd in amazement… it was their turn to be entertained by this collegiate pride that shook the roof and swayed arm-in-arm.
We all go to concerts for entertainment… to see a great show. But these musicians and artists go state to state being just as amazed and entertained by the traditions and fun of the various areas. This weekend, I myself was blown away by the Pig Sooie Hog Call. Eight years ago, I was among those amazing the entertainment with Midnight Yell.
It's a give and take with the entertainment world… they give us their all, and as fans we should give them our all right back.