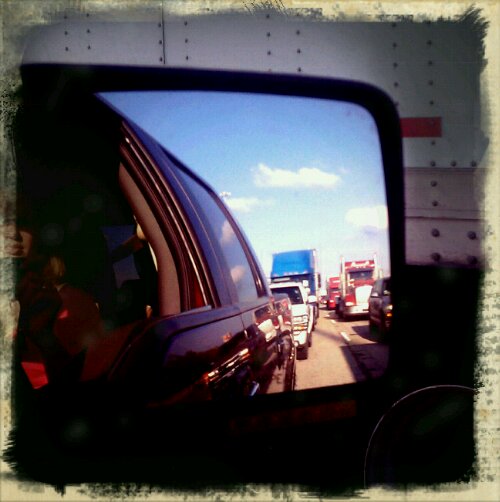 It happens to all of us at some point, if you ever travel by car… getting stuck in traffic.
I'm currently on a quick little road trip to see my family in Texas. In fact, I write from my phone in the truck. WordPress app for the win!
Don't worry, I'm not driving and blogging. Promise.
I'm in Northeast Texas on a state highway I've never been on before. It's beautiful! Luckily, storms that were through here today have long moved on… blue skies and puffy white clouds, wide open fields.
This is not where I was supposed to be, though. I usually take the Interstate the whole way. I like to just keep moving. No small towns with Barney and his one bullet and ten stop signs. It's fast and I can go into auto-pilot on that route.
However, today, we got about half an hour out of Dallas, and it was a parking lot. Our handy dandy smart phones informed us this was due to road construction. No love for TxDOT from me due to this. Especially when you see traffic as far as the eye can see, both ahead of you and behind you.
Oh okay, it was a little amusing until a Barney stopped people from cutting across a closed Interstate on-ramp onto the access road to catch an FM road away from the madness. Then I got annoyed. There seemed no way out. No end in sight. 45 minutes passed, we moved about a mile.
In comes the handy smart phone and a crossover and a state highway. Yay! Now we are moving and enjoying better scenery. Live in the moment and find the positive in the situation.
Stuck in traffic stinks, but it forced us to take the path we've never traveled. There is something cool about that.