Yesterday, I finally got closure on something that I didn't even know I needed closure on… I got closure on the fact that the Fiddle & Steel Guitar Bar closed.
For those who are lost… see my post from January 2015.
I hadn't set foot in the Alley since then, and I'd relied only on photos friends would post the occasional picture of the building behind a barricade. I followed articles that said the new boutique hotel  coming to Printer's Alley were over budget, then historical questions came up and things got put on hold, then they were back on again. Following the saga of the buildings in Printer's Alley has been an emotional roller coaster for those of us who had so much love and passion for the Alley.
I fell in love with Printer's Alley when I moved to Nashville. Love. I mean it. I researched everything I could about it. I would dig through old phone books, trying to discover what was in each of these 100+ year old buildings. From printers to furniture shops to bars to theaters, the Alley has been through so many transformations. I considered writing a book about it. I felt this odd deep connection to the Alley, and it seemed the heart of it beat inside the Fiddle & Steel Guitar Bar.
Don't get me wrong, the other establishments in the Alley were/are great, and all of us were a family in a way. I knew I could walk into any bar in that Alley on any given night and find people I knew and who would be happy to see me. There was this amazing vibration to it. You could sometimes, if you closed your eyes, feel ghosts of past Alley regulars walking with you.
I/we respected and honored the history of it.
When developers came in and kicked out the Fiddle & Steel, Lonnie's and the Brass Stables, it hurt… it, as weird as it sounds, was like a bad break-up. Like a sudden divorce that you didn't see coming.
Hundreds of hearts absolutely broke into a million pieces when that neon turned off, and those doors locked one last time. We, as shepherds of the building, walked away in person… but our hearts to some degree stayed. We were now the ghosts of the Alley.
Last week, they tore our building down. When I saw video of it coming down on the news, I found myself crying silently on my couch. As I spoke of it with others, I pushed down sobs. Clearly the wounds of our closing had not healed after all.
Oh, I'd justified it a million ways in my head. It was a blessing in disguise in a way. We probably wouldn't have been there much longer anyway, because the buildings truly did need many extensive repairs. Surely they have to keep the historical integrity of the buildings, and at least the history will still be right there for all to see for years to come.
But the fact remained the building was sitting there empty. And justify it all I tried, I also asked, "WHY?? Why did they kick us out when they did? Why didn't they give us a chance to stay?"
I couldn't go back. I couldn't go back and stare at that building that I had laughed in. I had cried in. I grew in. I had found some of the best friends of my life in. And to know I could never go back inside it. It hurt deep down inside.
Yesterday, I had lunch with friends, and then for the first time in a year and a half I felt pulled to the Alley. I drove downtown, and as I walked up the hill to that arched sign I once photographed almost every other week, I felt like a stranger in a place I once spent more time than I spent at home. Memories smacked me in the face, one after another. And as I turned the corner to stare down the Alley, it took my breath away. It was gone. It was just… gone.
Printer's Alley, that I had photographed so many times in the past and that I scoured books and the internet for photos of from the past, was forever changed. A huge gaping hole seemed fitting for the hole that had long been left in my heart. I took a deep breath and one foot in front of the other I walked the path I'd walked literally thousands of times over the course of 7 years. Oddly, though, I no longer felt that hum of the ghosts of the past. It was as if they'd all run far away.
Soon I was staring at a pile of wood where once three buildings had stood… three buildings that had held so much history. Three buildings that had held in it over 100 years of memories.
The finality didn't hurt as much as I thought it would. For the first time I felt some closure.
There was no going back for any of us. Whatever comes up in that place will never hold the character, charm, and heart of the Fiddle & Steel or Lonnie's Western Room.  They'll never hold the history (much of it quite sordid!) as they'll come up anew with a clean slate. Oh, sure, they'll use the bricks from the building, and they'll try to make it look historical. But it won't be.
Printer's Alley that was once so full of history will now hold a center of new, shiny and fancy.
No, Printer's Alley isn't closed. Kelli's, Fleet Street, Bourbon Street and the Rainbow Room still beckon visitors down it. There is still laughter and memories and music being made in those walls. There's a piece of that past still living on in them, and I can't deny or ignore that fact.
Someday a new hotel will welcome tourists. Perhaps they'll put a new restaurant or bar on the bottom floor. But that's just it, it will be new. The face of Printer's Alley will have changed much like that of someone who has gone through plastic surgery.
As I stood there, two familiar faces (employees of other businesses) appeared. One didn't see me, the other I exchanged pleasantries with… and in that moment I realized that us ghosts of Printer's Alley have stuck together and we always will. We'll still be haunting the Alley, even if only in our hearts, memories and friendships.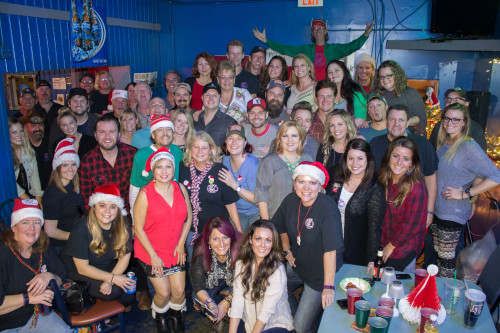 The Fiddle Family is just as strong as ever, even if we don't get to see each other as much. I could probably still look up some of the employees of the other bars and be greeted with a smile and a hug. They can take our building, but they can't take US away.
As I walked away, I realized I still love Printer's Alley's history, and I always will. Life may someday take me back down it one day, but as of right now I have a sense of closure. That chapter of my life has closed. And I may not be 100% okay with that. I may never be. But I am a heck of a lot closer to it than I was.
For more photos from my visit to the Alley this week, click here.