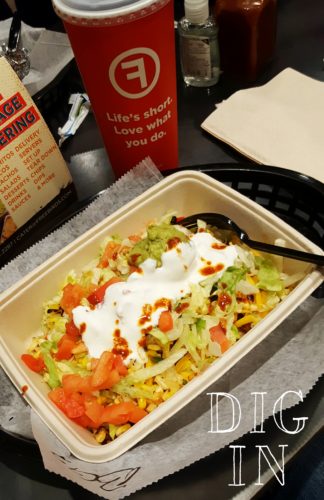 I'm not participating in NaBloPoMo through BlogHer this month, but I am trying to blog every day on my own. Here it is the end of the day and I am totally blank on ideas of what to write about…
Today's prompt on NaBloPoMo is, "What dish transports you to a different place and time in your life?"
We often talk about how a song can bring back a memory. Or maybe a smell. But you don't really think about how a dish can do the same thing.
This prompt is so fitting at this time of year. It seems like there are so many dishes that come across the table that take me back to Christmas meals surrounded by the family. And I swear Mom's cornbread dressing could bring peace to all on earth. It's my favorite thing.
It's not just the holidays, though. I'll order a meal that I had when out with friends, and those memories will come back. Perhaps that's a huge reason why I am such a loyal customer to Freebirds Burritos. It reminds me of college days.
Any time I eat at Thai Phooket in Nashville, I think about getting together with the original two Road Widow members to talk about what that blog could some day be… going from just a blog to a community of women leaning on one another.
I love thinking about this… how food can trigger a memory. But. It's also making me hungry! Â Time to go find a snack…