I really do love Nashville. And that love is precisely why I've shaken my fist at the changes coming to the city at such a fast pace. It's a magical city, and it has been for years. It's a city of dreamers. It's a city where dreams come true. (It's a city where dreams get squashed, too, I know.)
The magic of the city is not the lights. It's not the neon. It's not big skyscrapers. It's not a prime-time drama. The magic is in its heart. The magic is in the moments that can occur on any given night, in any given location. The magic is in its history and those moments that have previously occurred and that make up the groundwork of the city.
The last week has been one big series of magical moments for me. Moments that have kept me from blogging lately! Many of the moments I'll have to touch on at a later time, as they are tied to the closing of the bar.
My birthday was last week. I'm not a person who makes a huge deal out of their birthday. I had amazing birthdays growing up, and I have many cherished birthday memories.
This year, a concert just happened to land on my birthday. I bought tickets for me and my husband, and I told some friends about the show. Before I knew it, a group of almost 30 friends were all coming along! My husband said, "Look at all these people here for your birthday." I responded, "Pffft. Whatever. They're here for the show. It just happened to land on my birthday."
It was amazing, though. The music was… just… you can keep your lights, video boards, lasers and pyrotechnics. Give me a fantastic songwriters, with a smooth voice and who is certified as one of the very best guitar players. Its about the song and the music. It's a magical moment.
And let's face it, to be with so many dear friends on my birthday? Even if they WERE there for the concert, it felt good to see every single one of them.
Then, to get to say hello to the artist and get a, "Happy Birthday!" from them? This. This is what I mean by the magical moments that happen in Nashville.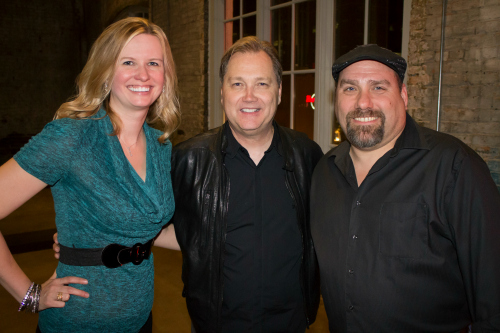 When my birthday came to an end, I didn't feel a year older. I felt very, very lucky and thankful. It was a magical night… hopefully leading into an equally magical year ahead.