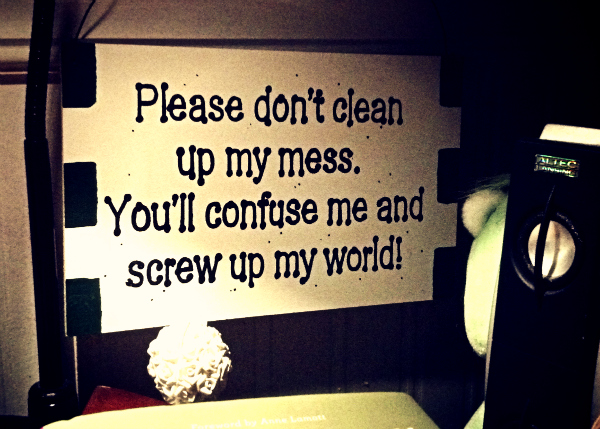 My husband likes to say we, "Never fight." Which, depending on your definition of "fight" is true! But we DO disagree at times.
One of our biggest disagreements is "the office."  The office is supposed to be my area to do my writing, photo editing, page design, etc. However, his laptop has pretty much become a desktop due to the hinge breaking that holds up the screen. So, I lost my computer space. Plus, we just like to be in the same room, and I find myself working while sitting on the couch in the living room with him.
Nonetheless, I still consider it more "my" office, and, as such, its subject to my personal version of organized chaos. Or as my husband puts it, clutter.
Whatever. Poh-tay-toe, Poh-tah-toe.
Either way, its pretty much a room with stacks of stuff everywhere. That's been my definition of organization as far back as I can remember. My bedroom would look like a tornado hit it as a kid, but I'll be darn if 9 times out of 10 I couldn't put my hand on exactly the item you would ask me to find.
(Ironically, in school and at work in an office, I tend to be super organized. I still remember like it was yesterday, one of my school teachers commenting that my bedroom must be immaculate the way I would organize things for her. If she only knew the disaster area it truly was…)
However, I was forced into cleaning mode today. For one thing, my husband is on the road, and I love having a surprise for him any time he gets home. I set my mind to shock him with a much more organized office. (Its a tiny room, so perfection could only happen if I threw everything out and went spartan.) For another thing, I wanted to figure out somewhere to put my laptop so I could work in the office again myself. I have a couple big projects on the back-burner that I need to focus on… and I focus best at a desk versus on the couch. Finally, I was missing a sheet of Forever stamps… and my remote shutter for my camera is MIA.
We'll find out if my husband deems my first reason as success (with him liking what I've done.) I'm sitting at the desk right now, so that was a success. And I found my stamps. The remote shutter is still missing. At least it only cost me about $8, so if I have to get a new one I can. I'd just rather not have to do that.
I'm going to try REALLY hard not to let this room go to heck again. I am. I can't make any promises, as my natural disposition is to go into the organized chaos thing. But I'll try. Because I gotta admit, a neat, clean room just feels so good… so light and fresh and open.