I wish I could remember more about costumes I wore as a child. I remember a clown one year. And another year, wearing pajamas with curlers and cold cream all over my face. There were various plastic masks. However, I really can't remember now a timeline and full list of Halloween costumes.
Junior and high school were, of course, the years that, "I'm too old to dress up." was said. In high school, I do remember one year donning a witch's hat for a FHA party… and I also remember being given funny looks for it. In college, I vaguely remember giving our candy at my brother's house wearing a top hat. Past that, though, I think I was just too busy.
But, fast forward to moving to Nashville: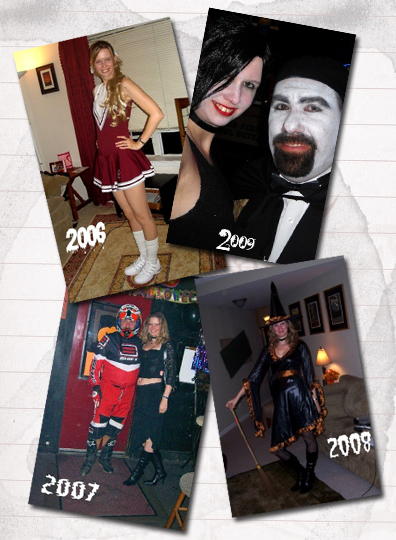 My husband and I have both found Halloween to be one of our favorite holidays. Why? To be honest, for me, it goes right along with my last blog post: it's a night to be a kid again and have some fun. Dress up in costumes and get together with friends. Poke fun at ourselves. Be something we're not.
My first year here, I just wore my old flag uniform. Yes, it still fit… actually better than it did in high school! Everyone said I was a cheerleader. By the end of the night, I quit correcting them. The best part was getting hit on by high school age guys at a party. I couldn't pay someone to hit on me in high school!
The next year I just put together an all-black outfit and went with something of a goth look. The next year a witch. Last year I bought a black wig to wear with my prom dress from senior year of high school. We've ended up being called "Mr. & Mrs. Creepy" from that.
Halloween costumes are so dang expensive, that we always try to make the most out of spending the least. This year, we did buy costumes, but went as cheap as we could find. Even so, I'm excited to dress up tonight and gather with friends. We're going to be Little Red Riding Hood and the Big Bad Wolf. I still need to go pick up a basket to carry as part of my costume.
It's funny, though. In high school, we try to act so grown up. Now as a "grown up," I just want to tell high school kids to stop trying to hard. Grow up and go with the flow… you'll enjoy life a lot more if you do.