I love photo challenges. I love being pushed to use my camera (be it my DSLR or my phone) every single day.
Over the last month, over on Instagram, I've participated in the #bloggerlifechallenge. It really challenged me at times and made me think outside of the box a little bit. As a result, I've noticed a definite improvement in the photos I've been taking.  (Hat's off to Kara at The Knight's Place for putting this one together. @theknightsplace I seriously enjoyed it more than usual.) As such, I don't want to stop.
I went out on a search for a photo challenge for November. I found a few, but none really seemed to fit me. So for the first time, I made my own. This time, instead of it just being on Instagram (and shared to my Tumblr page) as I usually do these challenges, I'm going to correspond these photos with NaBloPoMo — National Blog Posting Month. Â I'm determined to not only take a photo every day, based on this photo challenge, but I will write a blog post about the photo. It might be short. It might be long. But this is my goal.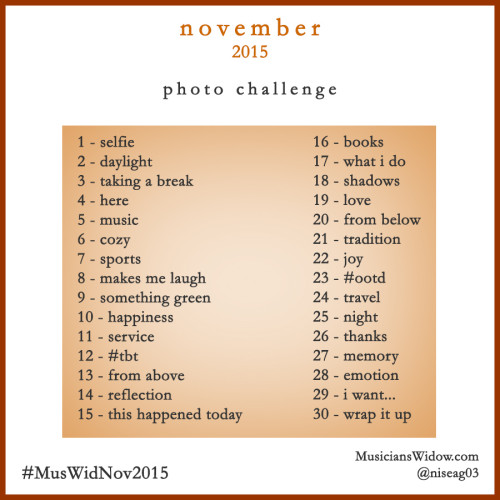 I don't expect anyone to join me, but if anyone should choose to do so, I would be honored. I'll be using the hashtag #MusWidNov2015 for all the social media posts of these images.