Earlier this week, I wrote about how I was not ready for the holidays. However, I am excited to report that I have caught the spirit. At least a little bit. Oh, it wasn't any sort of miracle moment. It just snuck up on me and I found myself getting into the right frame of mind.
The temperature has dropped, and we had a lovely Thanksgiving. Now I look for houses lit up. I have dug out my Christmas socks, and I'm already planning what to wear to various Christmas events. I have all but two of my Christmas gifts ordered, and I can't wait to start sneaking Christmas music in here and there.
I've decorated the inside of my house as much as we ever decorate. I plan to convince my husband to help me put the lights up outside tomorrow. We have a tree decorating party on Monday, and the Nashville Christmas Parade is Friday. My Christmas cards have arrived, and I hope to get them addressed and in the mail in the next week or two.
Its time. Time for the holidays. I'm sure my spirit of the season will grow as I go along.
As I've mentioned in here before, I am Catholic, and my faith is important to me. I don't post very often about it, opting to keep my blog topics neutral (in general). However, tomorrow is the first Sunday of Advent. As such, the next four Saturdays, I want to end my post with a little reflection for each week leading up to Christmas.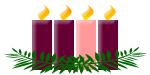 Week 1: HOPE
Hope. Something that I hold on to with both hands every day. Hope for things to improve in one way or another. Hope for peace. Hope for understanding. Hope for forgiveness. Hope for life eternal. Hope for a safe, healthy, happy, beautiful Christmas to come.
Be strong and take heart, all you who hope in the LORD.
Psalms 31:24