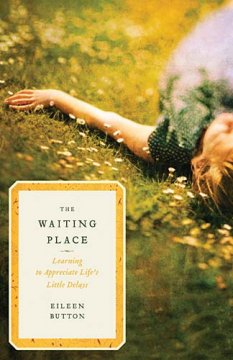 We are all waiting for something or someone. Perhaps you are reading this review while you wait for dinner to finish cooking, or while you wait for inspiration to strike. The Waiting Place by Eileen Button is series of essays written about being in "The Waiting Place" and finding God within it.
Button carries the reader through her own life, from childhood to marriage to parenthood to her own struggles as a writer. Her candor about events of her own life shines a light on God's love and gentle hand within her life, and she makes the waiting place a time to embrace versus a place to grumble about.
I absolutely loved this book. Ironically, I found myself reaching for it while in my own waiting places. On a plane. In the car. Waiting to get sleepy. And, most recently, waiting for writing inspiration. This book spoke to me in ways I couldn't begin to put into words. I needed this book, and perhaps this was God's own way of stepping into my own waiting place.
This book made me cry. This book made me laugh. This book made me think. More importantly, though, it made me reflect on my own life and my own various waiting places. The ones I've been in… and the ones I am in right now.
I highly recommend this book to anyone and everyone. I will be reaching for it again and again myself.
Disclosure of Material Connection: I received this book free from the publisher through the BookSneeze®.com book review bloggers program. I was not required to write a positive review. The opinions I have expressed are my own. I am disclosing this in accordance with the Federal Trade Commission's 16 CFR, Part 255 : "Guides Concerning the Use of Endorsements and Testimonials in Advertising."