Yesterday, I knocked something off my non-existent, but still kinda exists, bucket list: I did a 5K.
Let's be honest here. I am not a person who exercises regularly. Oh I think about it. I have high ambitions to do it. But it just doesn't happen. My exercise consists of bartending atleast two nights a week for 8 hours at a time w/o a break to sit down in that time. I justify to myself that its plenty of exercise each week, but let's face it… I'm just making excuses.
That being said, over about the last two years, I've had this want to do a 5K "some day." I put it on my bucket list. Someday. A 5K. Let's do this.
I heard of the Color Run via Facebook and Twitter, as friends around the country participated. And I went, "Hmmm… That looks like fun." I was out of town when the Color Run came to Nashville in March, and I was bummed. Then I heard it was coming BACK in October.
I wanted to participate. Was I crazy? Should I? My husband encouraged me to do it, so I signed up. We said we'd train. It gave us both an excuse to go and hit the walking trails. Yeah! We'd do it!
Yeahhhhh… didn't happen. Life's been crazy. Next thing I knew I was one week out and I hadn't hit a trail at all. I hadn't done a darn thing. And suddenly I had regrets. I had fear. How on EARTH would I do a 5K with no training!?
Then it really hit me it was Sunday morning, after I would be working Saturday night and not get home until after 4 am. So not only would I go into it with no training, I'd do it on MAYBE 3 hours of sleep. If I was lucky. What on EARTH was I THINKING!?!
Friday, I went and picked up my team's packets. Numbers, t-shirts, etc. This was happening. No turning back now. Oh my GOD what was I doing!?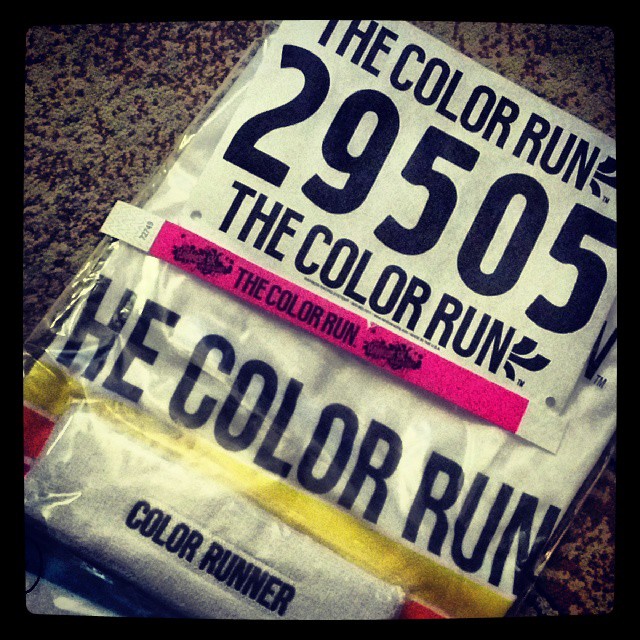 I got home Saturday night at 4 AM. I was in bed around 5:30 after I had supper and grabbed a shower. My alarm went off at 8 AM. Oh holy hell. 2.5 hours of sleep. I dragged myself out of bed. I put on my Color Run socks, t-shirt, a pair of shorts, temporary tattoo on my cheek, etc. I choked down a bread and jelly sandwich. Grabbed my stuff and headed to meet my team.  My good sense was left in bed, but at least I was in good spirits.
I met up with the team and we were all going, "What are we doing!?" As over half the team had worked the night before and were literally running on less than 3 hours of sleep.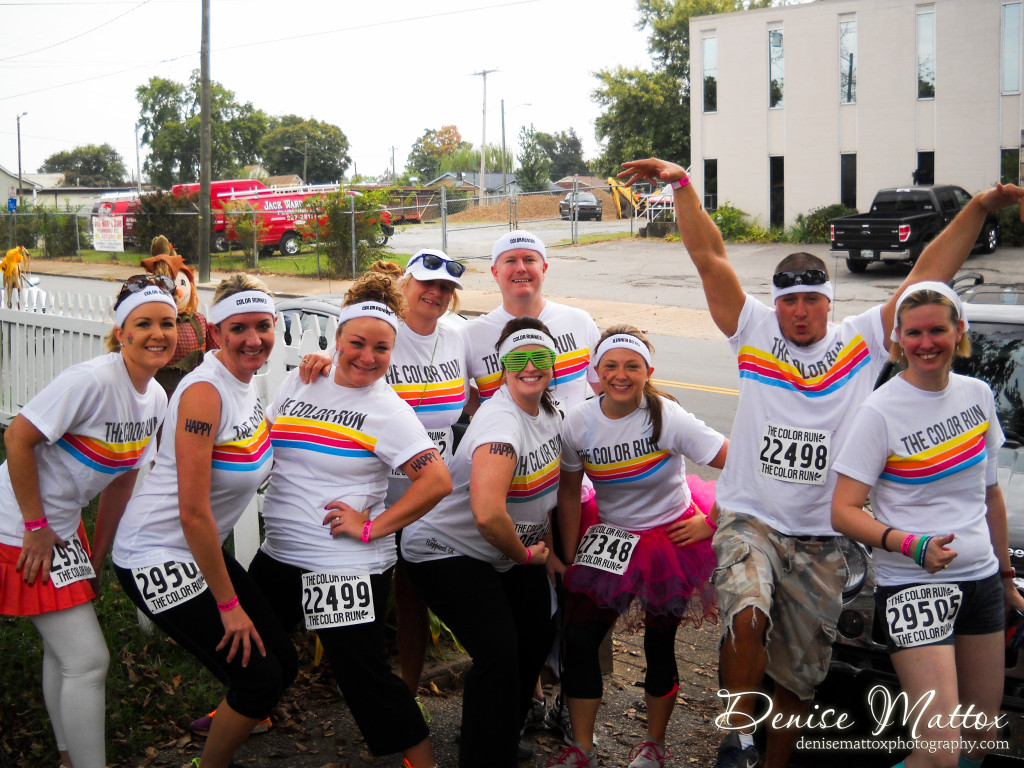 I think I was still in a fog until we got to LP Field. The air was electric, and it hit me… I was about to do a 5K. I sent my Mom a text message from the Start line and her text back just helped boost my confidence. As did the fact that I was part of a team of dear friends who had me laughing and forgetting the fact it was a 5K. We were just strolling through downtown together… and getting covered in color as we went. Which, you know, happens every day.
Around half-way, my legs finally went, "Dude, really?" I told them to shut up. And they did.
We all giggled as little kids hit the last little bit and were OVER it. Kids crying. Others complaining, not wanting to be in their strollers but also not walking to walk. A little part of me went, "I totally get it kids." But another part of me went, "I'm almost through this! I did it! Oh my word, I did it!!"
Not only did I finish, I found myself jumping and dancing around with everyone else. This truly was the happiest 5K in the planet!!
I did it. I knocked doing a 5K off my bucket list.
And then put it right back on. I wanna do it again!
Even though it took forever to get all the color off afterwards. Even though I had color in places that made me wonder how it got there.  Even if I had to get my husband to scrub my back off because I couldn't reach it all. Even if I had a pounding headache for the rest of the day from lack of sleep and (probably) a touch of dehydration.
I loved it. I am SO proud of myself for stepping wayyyyyyyyyyyyyyy out of my comfort zone and doing it. And even more for wanting to do it again.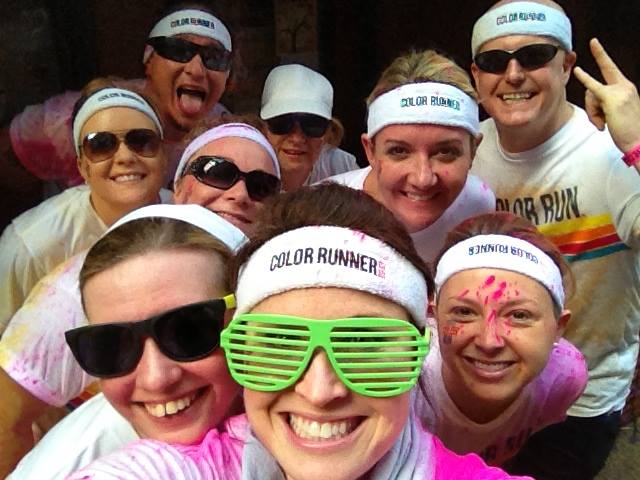 ♥♥♥