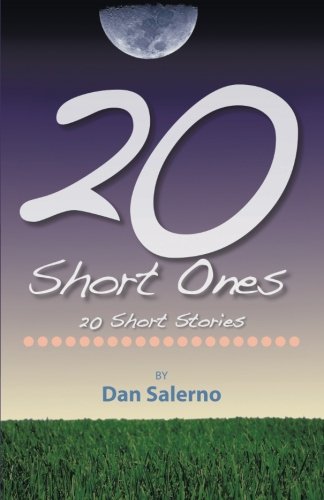 What's upon a time and read 200+ page book in just a few hours. Today I can't even seem to keep up with all the blogs I want to read. So when I saw 20 Short Ones by Dan Salerno I knew I had to request it to read.
When I requested it, I figured this would be an easy read. One I could actually finish in the timeframe given to do my book review. I had no idea that the stories would impact me the way they did.
The book is completely true to its name. It is 20 short stories that are great to read as you have time here and there. For example, I carried it into the waiting room while I got an oil change on my truck. You can read a story, and then just walk away for a while. You're not tied into a long novel. And let's face it, in this busy world that we live in, sometimes you need just a quick story to pass your time or to get away for a little while into a different world.
And boy do you get away! I found these 20 short stories to each suck me in and hold me tight through the duration of the story. Many of them I found myself contemplating long after I had close the book. A few I got so wrapped up in, I could not remember if it was a story in the book or something that someone close to me had truly experienced. That is good writing!
This book makes you think. It makes you really dig deep and contemplate the various messages it has to convey, and it does it without you realizing it's happening.
I love this book! I highly recommend it. It would be a great one to just throw in your bag on a busy day, or to set on the nightstand for a quick bedtime story for yourself.
Disclosure of Material Connection: I received this book free from the publisher through the BookLook Bloggers book review bloggers program. I was not required to write a positive review. The opinions I have expressed are my own. I am disclosing this in accordance with the Federal Trade Commission's 16 CFR, Part 255: "Guides Concerning the Use of Endorsements and Testimonials in Advertising.