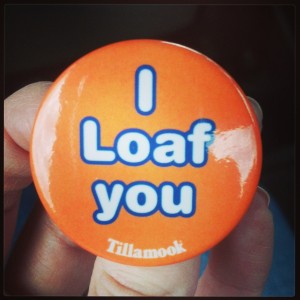 Growing up, I was not a cheese fan. Well, I liked cheese, but I couldn't call myself a fan for two reasons: One, I'm lactose intolerant. So cheese just didn't love me back. Two, I liked melted cheese, but you'd NEVER find me just cutting a chunk off a brick of cheese to eat. I just didn't like the taste.
The discovery of a good lactose intolerance pill took care of the first problem. The second was solved when my now-husband introduced me to the cheese made in his hometown of Tillamook, Oregon.
Growing up in Central Texas. The only creamery I was familiar with was Blue Bell. (And let me tell you, when Blue Bell made it to Nashville around the time I moved to Nashville… I was ecstatic.) And even that was just ice cream. I'd never even HEARD of Tillamook Cheese at that time. He urged me to try it, though, and suddenly I found a cheese I truly and genuine LIKE. Its not unusual for me to go to our kitchen and slice off a couple chunks off a baby loaf for a snack. This fact still baffles ME.
On visits to see family in Oregon, we make sure to swing by the cheese factory and load up on goodies. Luckily, Tillamook Cheese can now be found in Texas and (at a premium cost) in Tennessee.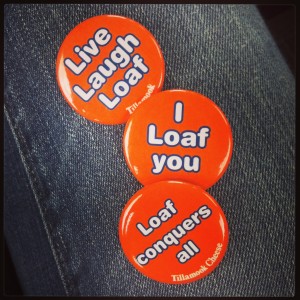 So any time I am in Texas, I try to grab a few bricks to bring back with me. And of course, we fly some of the specialty cheeses from the factory.
I heard about the Loaf Love Tour already a couple years ago. Tillamook Cheese bringing their goodness across the country. Free samples and fun times with their minibuses. I HAD to go.
Only, the tour was always in Texas when I was in Tennessee. And I have yet to see them make it to Tennessee. (If they have, it flew under my radar.) So I kept missing out.
Until yesterday. Yesterday, they were in Waco, TX. An easy drive from my parent's house, where I happen to be right now. So I went, and I was LITERALLY as excited as a kid at Christmas.
See… my husband and I totally get into things that interest one another. He rocks Texas A&M shirts constantly, and he'll chat up an Aggie almost faster than I will. He's versed in the traditions, etc. and I say he's an Aggie by marriage.
Similarly, I am ALL ABOUT Tillamook Cheese. His high school mascot was the Cheesemakers. His hometown is known across the country for their cheese. It's a popular tourist destination, and when I tell people, "Oh that's my husband's hometown." I say it with pride for him. I love talking about the cheese factory!  So today… it meant a lot to me.
Inside the store, I got cheese samples and I got to meet two lovely ladies, Ashley and April, who I stood and talked to for quite awhile. It was so awesome to meet them and get to talk about Oregon and the factory. They mentioned they might come to Nashville later this year, and I told them to look me and my husband up if they do. And I sincerely hope they will!!
Before I left, I of course had to take lots of pictures of the bus.
Definitely check out the Loaf Love Tour if it comes to your area and give Tillamook Cheese a taste. I think its delicious, and if all the Ambassadors are even half as nice and friendly as Ashley and April… you're guaranteed to leave with a smile on your face.  Also, let me know if you go and what you think!