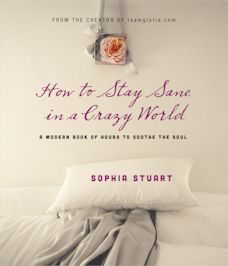 Let's face it, we live in a craaaaazy world. I know I spend more time feeling overwhelmed with to do lists, places to be, etc. than I care to admit. Sometimes the best thing I can do is slow down and take some me-time to reset.
This is why I loved How to Stay Sane in a Crazy World by Sophia Stuart. It's like the ultimate escape in and of itself, even as it gives you ideas of ways to step away from the chatter and insanity of life.
The book kicks off with simple, beautiful photos you can get lost it. It then flows into tips on how to simplify life, or at least make it more bearable. It ends with ways to unplug entirely. It even gives lists of great books, movies and music to help with unplugging.
This book will be beside my bed as my little get-away before bed and as a reminder to take a moment to breathe. It would make a great gift to anyone going through a tough time. I loved it! And I think others will, too.
I received this book for free from Hay House Publishing for review purposes.
I was not financially compensated for this post. I received the book from Hay House for review purposes. The opinions are completely my own based on my experience.
FTC Disclosure: I received this book for free from Hay House Publishing for this review. The opinion in this review is unbiased and reflects my honest judgment of the product.