I haven't done a Five on Friday since May. Today's a good time to share some things on my brain… direct from a coffee shop, even!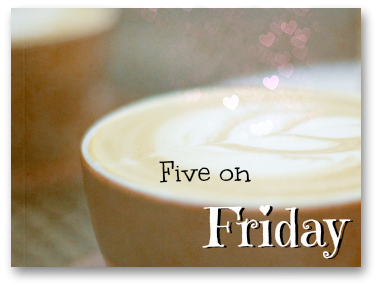 1. I read once that married people tend to be healthier than single people. I always did understand that, but I understand it more in this moment. My husband has been on the road for a week, and and I am living inside of my head too much. I've convinced myself my teeth are falling out, a cut is going to get infected and I'll lose my hand, a mole had melanoma, and I might be on the verge of a heart attack at any time. Are any of these true? Doubtful. But when you don't have that person to keep you sane, you can pretty much convince yourself of anything.
(By the way, I might have exaggerated all of these a bit, but whatever. Only one of these have I truly stressed over. Okay two of them. No, I won't tell you which ones.)
2. I love that everyone is so interested in our opening a bar. I do. But I have to confess, there are times I find myself tensing up when asked about it. Because its just so much that goes into it to do this the right way, and I always feel like everyone thinks we're dragging our feet. And while I strive not to worry about what others think, its kinda hard sometimes not to notice. If I could wave a wand and the bar be open, I would. But I can't. So its baby steps the whole way.
3. The big golf tournament is in ONE WEEK. I'm so excited for it!! I seriously have come to love and deeply respect everyone involved in this tournament, and I am honored to call them friends. And CASA? I'm so glad this organization came into my life. They're absolutely amazing.
4. My nephew took senior portraits today. It feels like yesterday, I was in high school running around on cloud nine that he'd been born. And now he's a senior. And my niece is a freshman. I know I'm still young… ish. But man this makes me feel old in a way. But also very, very proud of them.
5. My summertime guilty pleasure is watching Big Brother. This season has really amped up my fascination with human interaction and psychology. Plus, the After Dark feeds makes me feel not quite so lonely when my husband is on the road. It's just my summer thing, and not generally noteworthy. But I have to say one thing this week: WHAT THE HELL CLAY!?