Having just been on a vacation in which I learned a few things the hard way, I thought this would be an excellent chance to share a few travel tips in hopes of saving someone else some money and/or time. Or at least take a little stress away. (Most of these are aimed directly at anyone flying to a destination…)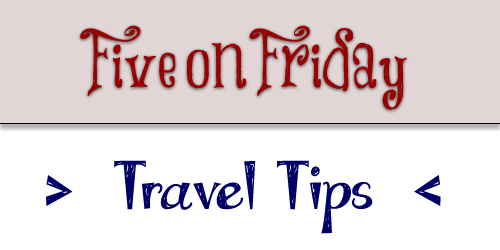 1. Clean your house before you leave. I know, you're swamped with packing and making sure everything else under the sun is taken care of before you leave. Did you stop the mail? Is there someone coming by to check on the house while you're gone? Boarding passes printed? What about money? Do we have enough money?
But seriously. Take an hour to clean your house. Throw the bed sheets in the wash and remake the beds. Do all the dishes and put them away. Vacuum the rugs and sweep. Take out the trash. Run a toilet brush around the bowl.
Why is this an important tip? Its two-fold. If you have someone coming over to check on things… maybe you have pets that need to be fed or plants to be watered. Just think how much better you'll feel having someone coming into a clean house… and on their end, how comfortable it'll feel to that other person. But beyond that, think how nice it'll be to walk into a clean house after your trip. You're going to be tired. You're not going to want to face a sink full of dishes. And how amazing is it to sleep on fresh sheets?? Your future self will thank you.
2. Research your airport parking options. Ideally, you find a friend to give you a ride to the airport. If so, skip ahead to #3. Otherwise, start looking ahead of time at GroupOn or Living Social, etc. for parking deals. On our last trip, I kicked myself for having not purchased a park-and-ride deal for $45 for a week's worth of parking. Yes, it was an off-site parking lot, but they are secure and have regular shuttles to and from the airport. And, $45 is cheap.  In many cases you can't even get a cab ride for that price one-way. Many cities have deals like this… even if you can't get a "deal" on the parking option, many off-site parking options are cheaper than at the airport.
3. Book a rental car before you arrive. Don't think you can "negotiate a cheaper price" upon arriving at a car rental location. Just the opposite. They know you're stuck and they have the upper hand.  You'll find waiting to rent a car will run you 3-4 times as much as if you book early. I repeat BOOK YOUR CAR AHEAD OF TIME.
Now, that being said, you can negotiate an upgrade AFTER you get there still. But you want to do so after you've already locked in the lowest rate you can.
4. Think about luggage logistics. I have a problem with this one and will be looking into a remedy before my next flight. Many luggage sets have straps that let you hook your luggage together and make a train for you to pull. USE THIS. Especially if you are on a long trip and you're carrying two bags, plus a laptop case and a purse. (Or am I the only person who does this??) We had to hook one of my bags to my husbands (because I don't have three arms, darn it) and lets just say we over-taxed one of his bags with the extra weight. I should have had that sussed out ahead of time…
5. Realize something will go wrong and go with it. It doesn't matter how perfectly you've planned a trip, something will go wrong. Your flight will be delayed. It's going to rain when it was supposed to be sunny. The restaurant you had your heart set on eating at is closed for a week for cleaning. That hotel room that was supposed to cost $70/night is actually $150/night. Whatever it is, don't let it ruin the whole trip! Relax and have fun and realize that something going wrong happens, and generally there was nothing you could do to avoid it. Or if there was something you could have done, you can't go back in time and change it. You can learn from it and deal with it. Maybe even have a little fun with it. Whatever you do, just don't let it be the end of a great time!
What are some of your favorite travel tips??