Weekly Winners is a fun little thing bloggers do to showcase some of their favorite photos from the previous week. It is brought to you, me and everyone by the lovely Lotus, aka Sarcastic Mom. Visit her site and find all the participants. See some amazing photos brought to you by bloggers around the world. Leave a little love when you do — its like food for the soul!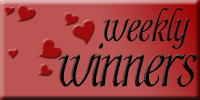 A week at home in Nashville before flying back to Texas today…
♥ ♥ ♥
Photos taken using a Nikon Coolpix L20
or my Droid Incredible or a Sony DSLR A230.
View all of my photos and detailed captions on my Flickr stream.