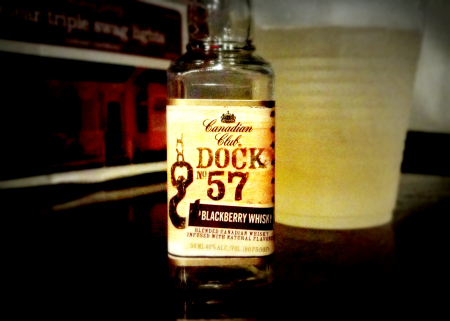 Every year, the bar I work at holds a "Christmas Decorating Party" where we all bring in little bottles of liquor, the bar provides mixer, and we "drink your ornament." (See my blog about it here.)
One of the little bottles I grabbed at the liquor store was Canadian Club Dock 57 Blackberry Whisky.
Hmmm… another flavored whisky. I like blackberries. I've no opinion about Canadian Club in general. So. Why not?
When I opened the little bottle, I poured some in a shot glass and passed it around to a few friends. All said it tasted good! You could taste the blackberry heavily, and I know you could smell it without even bringing the bottle to your nose.
I mixed the rest of the bottle with 7-Up, and it made just a nice fruity drink. If you'd given it to me without telling me it was Whisky, I'd have never known. That fact alone is a plus and a minus to this whisky.
I would call this a "women's whisky." Oh don't get mad at me. I know PLENTY of women who can slam back shots of Jack, Jim and Crown without even blinking. I'm one of them. But on average, women tend to gravitate to fruitier, lighter liquors.  Think the many flavored vodkas that exist today. I would actually lump this whisky right in the middle of those.
It's 40 Proof. It's light. Its heavy on the blackberry. It would be good hanging out by the pool, not sitting around a fire.
===============