I attended my first hockey game last night.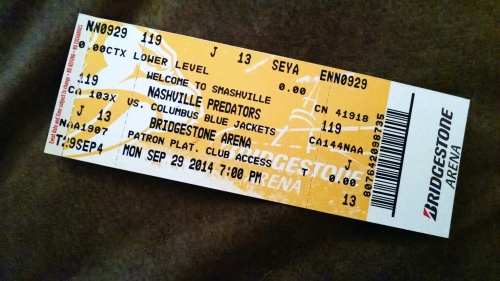 Yup. It was my first Preds game. Shocking, I know. I've lived here almost 8 years, and I had never gone to a hockey game before last night.
I got tickets after attending the Southeastern Young Alumni block party back in August, and I had been looking forward to the night ever since then. It was on my calendar, and I was practically counting down the days.
Why? Because it was something different. Because it would be a night out and away from everything else. Because I wanted to go!
I'll be honest, I had no clue what to expect. Heck walking out of the house, I wasn't even sure if I should grab a sweatshirt or not. I was THAT clueless.
My husband and I had some dinner, then headed downtown. We parked, got our tickets, and went inside. We had great seats (I think) and we only missed a small portion of the first period as we got drinks and I bought a t-shirt.
I was fine temperature-wise until mid-way through the second period. Then, I started to get a little chilly. But I was fascinated. I don't understand hockey other than the fact that the puck needs to go into the net to get a score. And there's something called a hat trick.
I mean no offense to hockey fans in saying that! But lets be real here. I know almost every nuance of football, and what I don't know I want to learn. I'm a football fan. I grew up in Texas after all!
Hockey… hockey is like a foreign language to me. I'm fascinated listening to people speak in another language, but I understand nothing more than, "Gracias," "Ciao," and "Jak se máš."
I was completely entertained watching the people see themselves on the jumbotron as well. That is ALWAYS fun. And I felt weird doing fang fingers when my poor nails are in such sad shape. They're far from being threatening these days.
By the end of the game, my eyes were watering and my sinuses were pissed off breathing the cold air for so long.  But I had fun. I had a LOT of fun.  So we lost, 0 – 3. At least it was just preseason.  I'd love to go again, and next time I'll be far more wise as to what to expect.
We left the arena, debating what to do. Just go home? We decided, instead, to walk Broadway. We don't do that much, and I actually felt kind of lost with all the new clubs! However, I found I still knew a lot of people in the bars and on the street, and that made me quite happy. Heck a few people I knew but my husband didn't! It was kind of weird, but it also made me chuckle. Bartending has made me a lot of friends, I guess.
We made the rounds. Sat and watched some friends play for awhile. Shared a lot of hugs and some laughter. We even got some ice cream!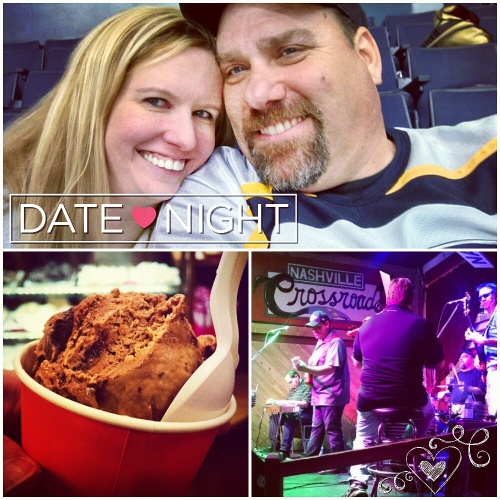 It ended up being a fantastic date night. Just us. And I loved it. I needed it. I am so thankful we got to go and spend the time together. Priceless memories made.