One this is certain. I don't run. But I LOVE TO COLOR RUN!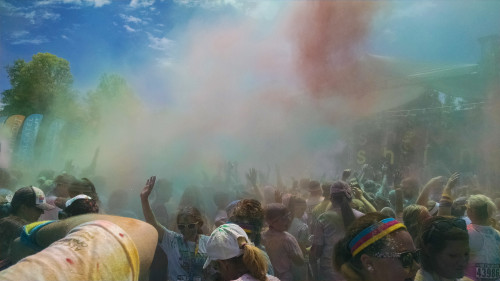 I've participated in The Color Run twice, and I am SUPER excited to announce I've been named a Color Run Ambassador for the Nashville run on May 14th.
What does a Color Run Ambassador do? It gets people excited to participate in the Happiest 5K on the Planet. And I lets me give YOU a discount code (NASHTN1) to come run participate with me and hundreds of other happy people in Music City!
Now, seriously, why on earth would someone who doesn't run love to Color Run?
Because its not a race. They don't time you. EVERYONE is welcome. Bring the kids! Bring grandpa and grandma! Bring your boss or your best friends. It's about having a good time. It's laughter. It's getting covered in color from head to toe. It's accomplishing something you may have never thought you'd accomplish…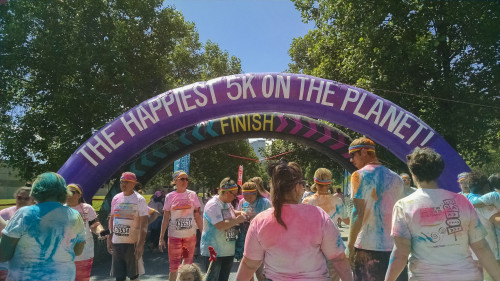 This year's theme is Tropicolor and its the FIFTH ANNIVERSARY of The Color Run!
Directly from the Color Run site:
Participants will experience an all-new Tropicolor Zone™ on course, where they will be bathed in a tropical array of colors and delicious island scents as they pass through the shade of palm trees, arches, and island-style music. At the Finish Festival, Color Runners will enjoy even more fun at Rainbow Beach, an interactive island featuring music, dancing, unique photo opportunities, and massive color throws.

Each Color Runner will also receive a limited-edition Tropicolor race shirt, finisher's medal on a floral-printed ribbon, embroidered headband, and fun temporary tattoos. It doesn't matter if it's your first experience with The Color Run or you've been joining in for years, the Tropicolor World Tour will be the most memorable 5k of your life.
So what are you waiting for?? JUMP IN WITH ME!
REGISTER NOW here.  Get $5 off your registration with my code: NASHTN1