This afternoon, I sat in a chair across my office from my desk, and I caught myself staring at all the random items on my desk. I was immediately struck by how much my desk screamed about me. (And similarly, in hindsight, what my husband's desk says about him. But that's neither here nor there for this entry.) So much stuff haphazardly strewn here and there, all laid in one big, detailed description of ME.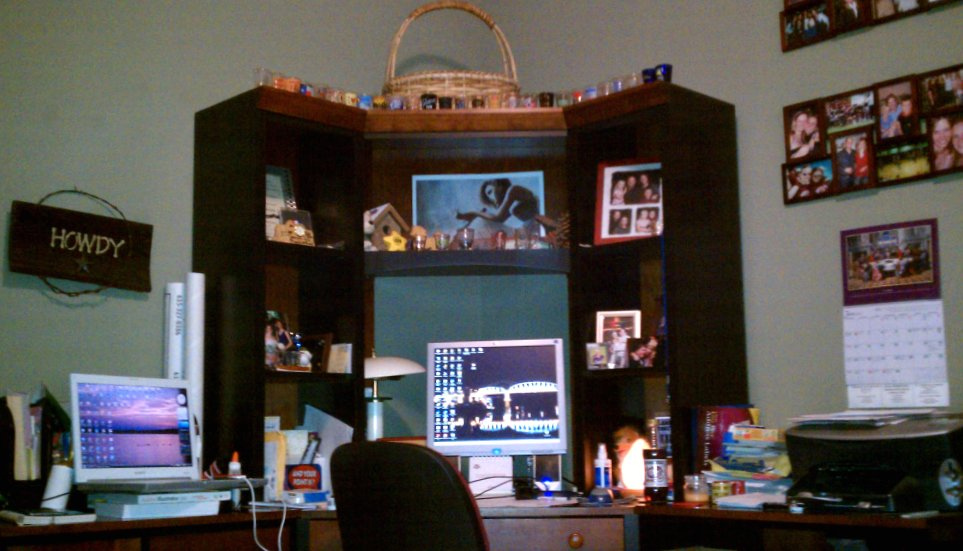 As I skimmed over my desk, I saw a stack of books for Adobe Illustrator: my constant attempt to improve my skills.  My iPod charging on my laptop showing music love. Desktop screen showing a photo of Nashville — my city. Howdy sign, Aggie desktop calendar, Aggie birdhouse, Reveille stuffed doll, and other random Aggie items across the desk show my love of my school. (Across the room my diploma is displayed, too.) Family photos. Friend photos. These are all people who are important to me and rooting me on…
A Diet Dr. Pepper. Shot glass collection. UIL medals and an award for column writing. A glitter lava lamp, and a lamp that was my grandpa's. A black and white photo of Printers Alley. Heck, even the lint roller to get cat hair off my shirt! These are all inherently me.
I've read many blog posts around the Internet about what your desk and workspace can convey to your boss and co-workers. Working from home, you wouldn't think that would matter so much. But for me, it still does, because my working environment can directly impact my work.
My husband has picked at me a little about how cluttered my desk tends to get. I have ALWAYS been someone who can find things in a clutter much faster than when its all neat and filed away. This is not an excuse. This is simply fact. But I am trying to curb that a bit.
I think back to when I had a job at a newspaper. I was always careful to end every single day by clearing off my desk. I'd put everything in its place, so I could come back with a clean slate the next day. Some days I'd walk in the office and find my boss had left something for me to handle that day, and what was nice was that it I (nor she!) never had to worry about an assignment getting lost on my desk that way.
Of course some days I wished I could accidentally lose an assignment. (hehehe!) But I think everyone feels that way at some point at work. Heck, some days I wish NOW that I could accidentally lose an email, but I can't. I didn't lose assignments then. I won't lose emails now. (Uhm, short of hotmail eating it, of course. Technology DOES have its bugs sometimes, which we've all unfortunately fallen victim of at some point.)
I've created an Inbox for daily mail, etc. I'm slowly trying to shred old documents and work towards a filing system. I have to admit, having a clear work space makes it much easier to take notes when on the phone or when I just need to "think out loud."  I re-write my to do list every couple of days and keep it in front of me. Oftentimes it doesn't change any, but it helps me go back over it thoroughly.
I'm proud of my workspace! Its functional, but its also so ME. These days, I spend a vast majority of my days in my office at my desk. I'm glad to say I legitimately ENJOY being in there! (My desk chair stinks, but a pillow seems to help with that a bit. Some day I'll get a new one.) My husband teases me on occasion that I will spend 12 – 18 hours in the office without realizing it. Its simply because I enjoy it. I love what I am doing. I have my goals and dreams right in front of me. And I have a space in which to do it all that I like.
Gotta love it.
(Amusingly… I wrote this blog on my laptop curled up on my couch. HA!)