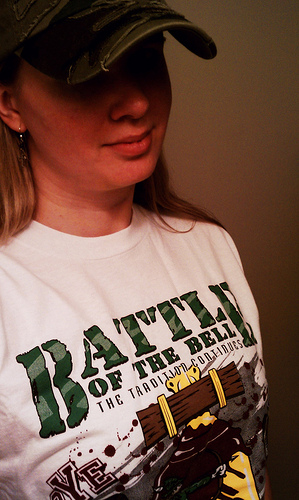 That picture is my attempt to be all "bad ass" and stuff. It didn't work, but I am wearing my Battle of the Bell t-shirt for tonight's big game.
Battle of the bell?
Big game?
Yes, tonight is the night my high school plays its #1 rival, a competition that has long been called "The Battle of the Bell."  The Cameron Yoeman take on the Rockdale Tigers, and while I live over 800 miles away, I still feel that old competition course through my veins.
According to the History of Rockdale, Milam County Website, (and, yes, I am quoting word-for-word here):
The Rockdale-Cameron game is one of the state's best rivalry games.Since 1954, the winner has proudly rung a big brass victory bell, which is symbolic of Milam County football supremacy. The bell, taken from a steam locomotive, was donated to the two schools by the Rockdale, Sandow & Southern Railroad in 1954. Bragging rights to Milam County football supremacy come with the bell; therefore, the two communities encourage their charges to bring home the brass beauty for another year. Over the years the bell has helped fuel one of Texas high school football's longest and most-storied rivalries.
That same bell was the one that we fought over when I was in high school. I was proud when the bell came back to Cameron one year, we did repaint it the more traditional half maroon and gray (Cameron) and half blue and gold (Rockdale). It didn't last though, and each year it went back to being painted the color of whatever school had it for that year.
The bell broke multiple times over the years, and one time was actually stolen and thrown into the Little River (which runs through Milam County). I have to say, I had plenty of time even I wanted to throw the bell in the river. The rivalry could get as ugly and nasty as any college rivalry until I had times I wondered if it was worth the stress. However, at the end of the day, I will always have an interest in the rivalry.
As I said, the bell broke many times over, and in 2001 it was replaced with a new, almost identical, brass bell by Yoe High School graduate Catherine Thomas. Fitting considering the fact that my CAMERON YOEMEN hold the winning record for the series. According to a post on the Cameron Yoeman Facebook page, we won 38 times in the 55 meetings: 1954, 1955, 1957, 1958, 1960, 1964, 1965, 1969, 1971-75, 1978, 1979, 1981-87, 1989, 1990, 1991, 1993, 1994, 1996 – 2002, 2004, 2005, 2006, 2008
Hopefully tonight we will make it win 39 in 56.
This is one of the very few years Cameron and Rockdale will battle without being in the same district. In fact, currently Cameron is ranked 2A, while Rockdale remained 3A in the recent district realignments. In the past, this game has been left for the last game of the season. Often its even been the game that decided which team would move into playoffs.
This year, it is played early and with nothing but a bell and bragging rights on the line… oh that and to move on with an undefeated season. When it comes to this game, district rankings and the years win-loss stats matter none, though. This is about heart and a deeper rivalry that Hollywood blockbusters are made from. I've lived that rivalry… and tonight I sit here in my old Battle of the Bell t-shirt with my school's song playing in my head…
"On Yoe High" (Written by Portia Kruse and Francis Cox) Praise to our school we sing, each his loyal honor brings; Together we the Yoemen stand, to spread our praise through all the land.  To represent as best we can, in all our competition, and our hopes, our pride, our love compound in you, dear school.
Yay Maroon!  Yay Gray! Yay Yoemen! ALL THE WAY!!
Fight Song: "Our Boys Will Shine Tonight" Our boys will shine tonight; our boys will shine. Our boys will shine tonight; our boys will shine. Our boys will shine tonight; our boys will shine. When the sun goes down and the moon comes up, our boys will shine.
>>  Post game update:  Cameron Yoemen take the win 35 – 13!  GO BIG YOE!! <<
========
Yearly Update
Years The Bell Has Gone Home to…
Cameron: 2015, 2013, 2012, 2010, 2008, 2006, 2005, 2004, 2002, 2001, 2000, 1999, 1998, 1997, 1996, 1994, 1993, 1991, 1990, 1989, 1987, 1986, 1985, 1984, 1983, 1982, 1981, 1979, 1978, 1975, 1974, 1973, 1972, 1971, 1969, 1965, 1964, 1960, 1958, 1957, 1955, 1954
Rockdale: 2017, 2016, 2014, 2011, 2009, 2007, 2003, 1995, 1992, 1988, 1980, 1977, 1976, 1970, 1968, 1967, 1966, 1963, 1962, 1961, 1959, 1956
Tally: 42 – 22