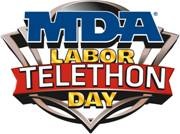 As everyone gets ready for a long weekend to enjoy one last hurrah of summer fun, thousands of people are gearing up for the MDA Telethon. This year's telethon, however, will be very different from year's past.
From an MDA press release: The 46th annual MDA Labor Day Telethon is getting ready to squeeze 21½ hours of entertainment, awareness-building and fundraising into six prime-time hours on Sunday night, Sept. 4.
Not only is the telethon shorter, but its not ON Labor Day, and it also will NOT be hosted by Jerry Lewis, an absence that will be impossible to miss. "Jerry's Kids" have looked to him to help raise money for their care for decades. His dedication and love to MDA has been infectious, and he's successfully raised over $2 billion in his years at the helm. The reason for his absence is not known. It may never be known.
I pray, though, that these changes do not result in a lack of donations. The telethon will be broadcast by more than 150 television stations across the country, and nearly 40 million people are expected to watch. 40 MILLION people. If every viewer gave only $10, that would be $400 million raised. That's pushing it, I know, but I can dream.
Celine Dion, Jennifer Lopez, Lady Antebellum, Darius Rucker, Martina McBride, Steven Tyler, Jon Secada, Randy Jackson and Richie Sambora are all scheduled to make appearances during the telethon.  Nigel Lythgoe ("So You Think You Can Dance"), Nancy O'Dell ("Entertainment Tonight"), Jann Carl (journalist) and Alison Sweeney ("The Biggest Loser") are this year's hosts.
My nephew will be featured on the Waco, TX station showing the telethon (KXXV Channel 25.) He's appeared on the telethon the last several years, urging the people of Central Texas to give… he himself is an example of the good MDA has done in this world.
I've talked about my nephew and his battle with Muscular Dystrophy a several times in this blog. Specific posts include:
My nephew is in 8th grade today… he's growing up fast. He recently participated in an experimental drug study in Ohio, a drug that could potentially help him walk again some day. More importantly, it could lengthen his life.
He flew for the first time to go to this study. He went through tests that included injections into his stomach… when people commented to him on Facebook that he is brave, he responded simply, "not really:)"
Despite his limitations due to muscular dystrophy, he doesn't let life pass him by… he worked some at my parents business this past summer, he takes PE (figuring out how to slide in his wheelchair while playing dodge ball), is part of the student counsel, and (if I remember hearing correctly) is a trainer for the football team this year. He plays saxophone in the band, and he's helping his dad rebuild a 1993 Ford Mustang.
A huge part of his being able to be so active is thanks to the work of MDA.
Directly from the MDA website, some of their services:
MDA sends some 3,500 youngsters with muscular dystrophy to accessible MDA summer camps each year, at a cost to MDA of $800 per camper. There's no charge to families.
 Tens of thousands of people visit MDA's nationwide network of some 200 clinics and 38 MDA/ALS centers every year.
 MDA awards research grants to more than 330 teams of scientists and physicians worldwide.
 The Association also:
assists with the cost of repairs to all types of durable medical equipment for those it serves;
facilitates meetings of more than 240 support groups around the nation;
provides thousands of free flu vaccines;
provides annual occupational, physical, respiratory or speech therapy consultations
offers advocacy and community outreach;
provides online support services through the e-community myMDA and myMuscleTeam, a program that helps recruit and coordinate in-home help;
conducts extensive public education programs; and
publishes current, accurate and easy-to-understand information about research, health care and daily living with neuromuscular disease via two national magazines, numerous booklets and guides, and online at mda.org.
MDA does wonderful things, and I always urge people to donate. If you're interested in tuning in this Sunday, check your local listings or find your station on this pdf from MDA.
And thank you in advance… from the deepest places of my heart, thank you.