It's no secret that MDA is a cause I support heavily, primarily due to my nephew battling Duchenne Muscular Dystrophy. (I talked a lot about that as the 2012 Labor Day Telethon approached.)
I've had the honor of walking in three different Muscle Walks, in three different cities. All were amazing and overwhelming.
In 2010, I made the trek to Dallas and Cowboys Stadium for the MDA Stride and Ride (which was what it was called then).
 Then in 2012, I participated in Waco's Muscle Walk on the Baylor Campus.
Then this year I got to be a part of the Music City Muscle Walk, here in Nashville. I'm usually out of town when it is held, but this year I was in town. As a bonus, my husband had a random Saturday off and got to go as well!
It was AMAZING. I gotta admit, it felt a little strange to not have my nephew, brother, niece, sister-in-law and parents there. But I couldn't stop smiling as my husband told anyone who would listen about our nephew and all he's accomplished despite fighting Duchenne. I hardly had to say a word the whole day… which was good because events like the Muscle Walk get me and I walk around with a lump in my throat the whole time.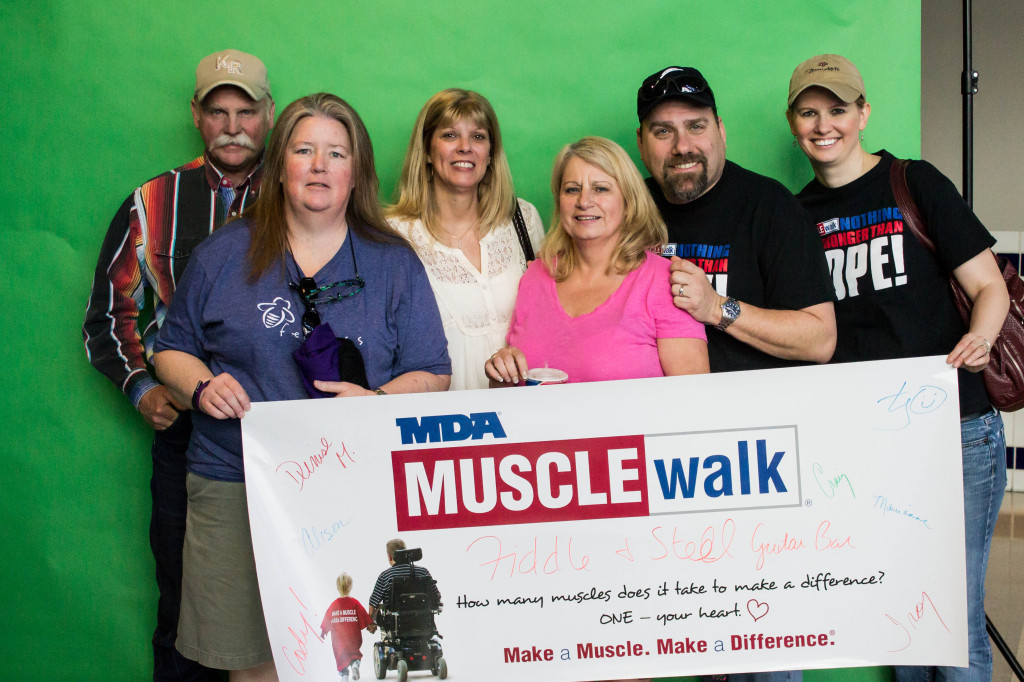 As of the end of the walk, over $97K had been raised. I know during the walks, money does continue to trickle in so I'm sure the FINAL final total will be higher. That's AMAZING.
There were people everywhere. Our team captain has participated the last four years and she said this was without a doubt the largest walk to date. I think I heard that there were well over 1,000 people walking that day.
 
I forgot that most teams dress similarly. In Waco, we all wore camouflage. In Dallas we had matching t-shirts. I totally spaced our dressing alike this year. Next year… next year we will have a theme. And it will be awesome. And we will raise even MORE money. And have an even bigger team.
Seriously, though. Wherever you are… look for a Muscle Walk to participate in and be a part of this amazing event. If you're thinking, "I don't do walks… I'm not in shape for that!" Our team captain recently had knee surgery, and I'm still limping from a "its not a good story" foot injury. It's not a race. It's low physical impact, but huge emotional impact.
Well, actually, it IS high physical impact. The money raised at the Walk has huge physical impact potential for those fighting muscular dystrophy, as a cure is being sought every single day. You don't have to raise thousands of dollars. You can raise as little as $5 and still participate. Just be there. Just go and see what its about. You'll leave with a full heart. I promise.