Tomorrow is a big day.
Tomorrow is the MDA Telethon.
Well, okay, so technically this year they aren't calling it a telethon, but its still MDA's biggest fundraiser of the entire year.
WHY is the telethon so important? Let me show you a picture my brother sent me last night.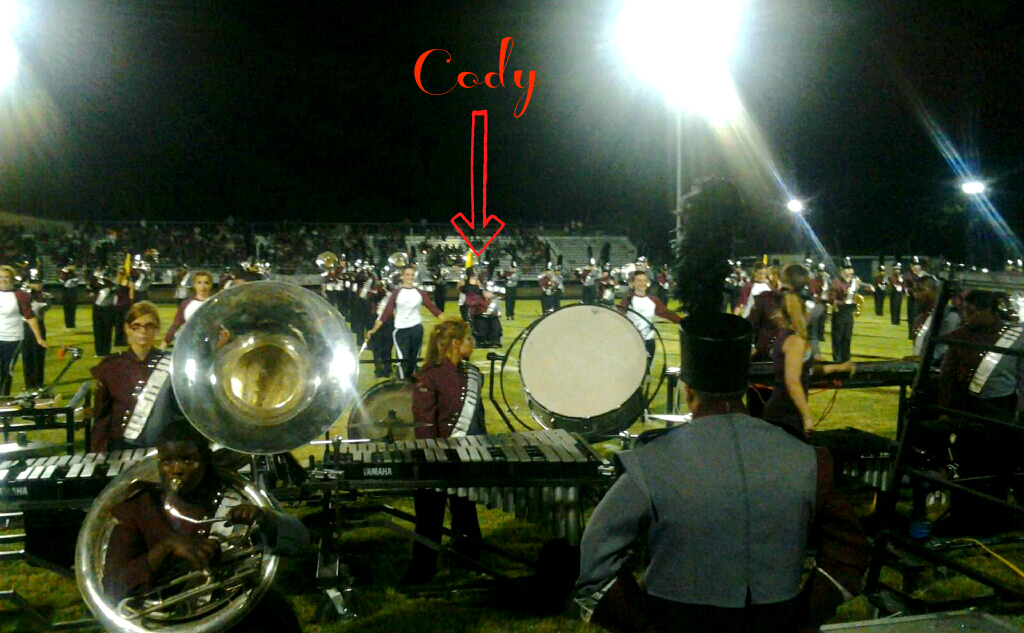 That arrow is pointing at my nephew. On field for his first football game of his Freshman year of high school. ON FIELD. In his motorized wheelchair. He doesn't let anything stop him from doing what he dreams of doing.
And a big part of what helps him keep on dreaming and succeeding is all the research and support provided by MDA. See, he has Duchenne's Muscular Dystrophy. Duchenne muscular dystrophy occurs in about 1 out of every 3,600 male infants. It's not contagious; its an inherited disorder caused by a defective gene for dystrophin, a protein in the muscles. For more information specifically on DMD, visit this page on genome.gov — its one of the most comprehensive explanations I've ever read myself.
Duchenne's is just one of many muscular disorders covered and researched by MDA. The money raised through the year — especially the amount typically raised in the Labor Day push — can literally be the difference between life and death for thousands fighting a fight many of us couldn't fathom having to fight.
From the "Where your money goes" page on MDA.org:
* 77 percent of every dollar MDA spends goes directly to research, services and education, and the rest to fundraising and administration.

* MDA spends $70 a minute in its worldwide research program, supporting some 300 projects worldwide.

$70 covers one minute of MDA-supported research; $150 is one physical, occupational, respiratory or speech therapy consultation; and $500 assists one person for one year with repairs to durable medical equipment
Tomorrow is a big day, and I encourage everyone to give at least a little bit. I know there are many, many, many good causes to support, and there's only so much money to go around. At least tune in tomorrow evening and learn a little more about muscular dystrophy and all the good MDA does for individuals and families fighting this fight. I myself can vouch for the truth in their stories and claims… and maybe it'll move you to give a little. Even just $5 makes a difference.
MDA SHOW of STRENGTH continues MDA's Labor Day weekend tradition in a three-hour prime-time broadcast special airing on Sunday, Sept. 2, 8 p.m. ET, 7 p.m. CT. […] Among the celebrities and entertainers scheduled to appear are: Carrie Underwood, Pitbull, will.i.am featuring Eva Simons, Carole King, Paula Abdul, All-American Rejects, Big Bad Voodoo Daddy, B.o.B, Brandy, Luke Bryan, Gavin DeGraw, Hot Chelle Rae, Karmin, Tim McGraw, Alanis Morissette, Khloé Kardashian Odom, OneRepublic and more. In addition to being broadcast on 150 "Love Network" stations across the country, the show will be streamed on mda.org. [source]
Related posts:
* What do you know about Muscular Dystrophy?
* Weekly Winners (Jan. 24 – 30) — From 2010′s Stride & Ride
* Labor Day Weekend = MDA Telethon