Make a muscle, make a difference.
That's the motto of MDA, the Muscular Dystrophy Association. I write about MDA regularly here, and with good reason! My nephew has Duchenne's Muscular Dystrophy.
Long-time readers and anyone close to me in person knows this fact, but for any new readers or any hit-and-run readers, this is probably news to you. So to save myself the finger pain, and to save those who have heard it time, a few quick past-post reads to catch you up.
* What do you know about Muscular Dystrophy?
* Weekly Winners (Jan. 24 – 30) — From 2010's Stride & Ride
* Labor Day Weekend = MDA Telethon
On February 4th, I'm participating in the next big fundraiser for MDA with my family. The Waco MDA Chapter is holding their Stride and Ride at Baylor University. I'm happy about the event, but not about the location. But, I promise not to be one of those people who decks out in A&M gear from head-to-toe just to prove some sort of point. Whatever that may be. It's about MDA. And the great work that they do.
Okay, so I might do this: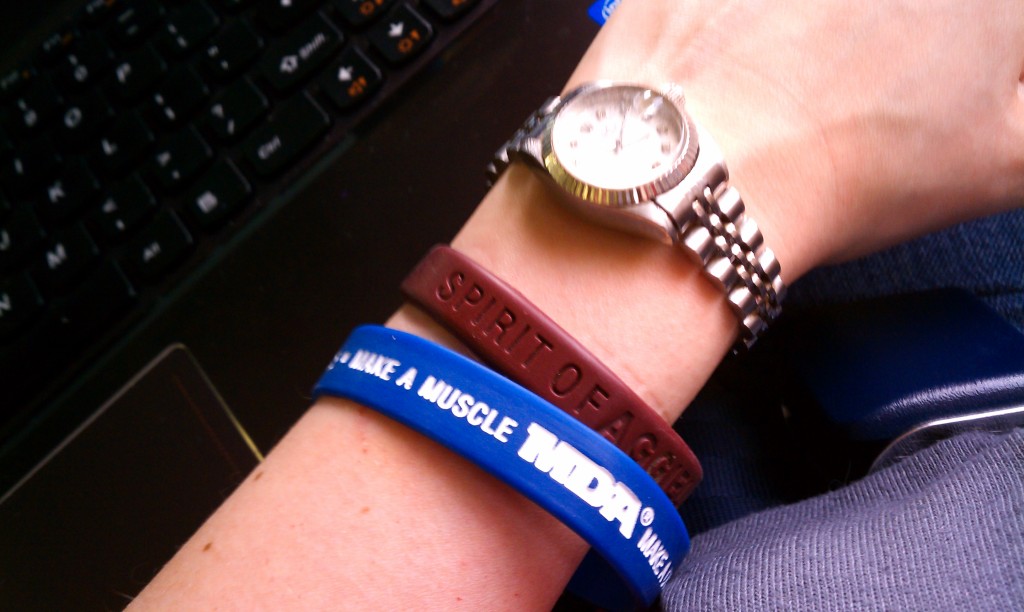 Ha!
Anyway, I had hoped to raise a lot more money for this from my end, but its like a friend said the other night, you can only go to the well so many times. My Nashville Family has been raising money for some of our members, and funds are tight as it is. So I've been a bad team member and not raised much money. Insert sad face here.
I do have a page where people can donate, should any of my readers care to sponsor me for a few dollars. Every dollar, five or ten does help.
My nephew is doing amazing, all things considered. When he was diagnosed so many years ago now, we all went through those stages of denial, anger, fear and finally acceptance. But what MDA never made anyone accept is "the status quo."  They made it no longer about, "Oh hey, here's what's going on. Deal with it." It was all about, "Here's what's going on, and here is how we are not only going to help you to handle it, but we're going to help you realize there is ALWAYS hope. Because we're making great strides in medicines and procedures, etc. that could one day cure your loved one."
Those strides are thanks to donations from others. Donations raised during these special events. Donations raised during the Labor Day Telethon. Donations raised on street corners in small town America during bake sales, but because people care.
If anyone would like to sponsor me and donate to our team, awesome. And I thank you in advance. We all thank you. And if you can't, I understand and thank you for listening.