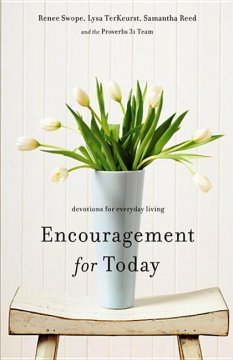 Some days it feels like there is nothing but bad news, everywhere you turn. Health insurance frustrations, devastation in the Philippines, murders, robberies, couples you thought were strong are getting divorced, friends are hurt in a bad car accident, there's another child diagnosed with cancer… it goes on and on. It gets hard to be optimistic, and we could all use a little encouragement.
I requested to read and review Encouragement for Today: devotions for every day living by Renee Swope, Lysa TerKeurst, Samantha Evilsizer and the Proverbs 31 Team, hoping I'd get that encouragement that helps keep me my usual optimistic self.
This book is, for me, sheer perfection.
First off, my attention span reading these days is minute. This book is broken down into 100 "chapters," each ranging from two to three pages long. That's it! It's a quick easy read here and there, giving me that boost I want without committing myself to a long periods of time reading..
Second, each chapter follows a consistent "formula." It starts with a story that ends with a short prayer based on the focus of the story. It then challenges the reader to remember, reflect and respond, making each chapter something of a workbook for the soul.
Third, it's a healthy dose of faith without being overbearing. It reminds you God's got your back without preaching in an in your face approach. And that's just the way I like it. Strong in its faith messages without being, well, a bully.
The topics covered in this book are wide ranging, and I can see this book ending up tattered and worn through the years and I turn it time and time again for a little bit of encouragement. Check it out sometime… perhaps make it a stocking stuffer this Christmas for someone you think might need a little boost here and there. They will thank you for it.
Disclosure of Material Connection: I received this book free from the publisher through theBookSneeze®.com book review bloggers program. I was not required to write a positive review. The opinions I have expressed are my own. I am disclosing this in accordance with the Federal Trade Commission's 16 CFR, Part 255 : "Guides Concerning the Use of Endorsements and Testimonials in Advertising."