"Good night! Sleep tight! Don't let the bed bugs bite!"
When I was little, I didn't think there was actually something called a bed bug. I just thought it was a cutesy way to say good night.
Then over the last few years, bed bug reports have been in the news. I've been worried about my husband bringing them home off the road sometime, after being in a hotel room with them. I never thought we'd run into them together at a studio.
On Monday night, my husband and I started noticing bites on our legs. I thought it was the blankets we had wrapped up in, so I threw them in the basement to be washed. Then Tuesday, we discovered a friend had the same bites… our only common denominator was the studio where my husband had a session on Monday.
Come to find out we all (who were there) have bites, and it was confirmed they are bed bugs.
Want to see one of my legs? These are going away…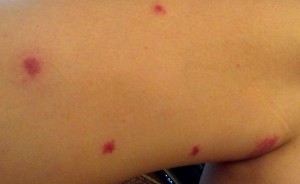 Seriously would not wish these on my worst enemy! I've had enough bug bites in my life that I've gotten pretty good at ignoring the itch. So mine are drying up fairly quickly.  My only concern is if we brought any home with us. Will we be facing this again down the road? I sure hope not…
Time will tell.