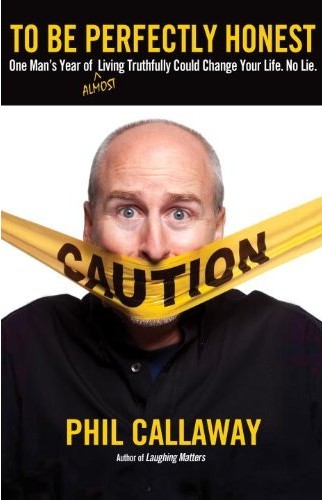 Could you take a truth vow for a whole year? Could you REALLY not tell a lie for 365 days? I mean not even telling someone you've got plans Friday night when in reality you just don't want to go out. Not even, "You look great!" when in reality the other person looks like crap? Or what about, "Let's do lunch!" even though you know you have no intention to do so?
Yeah, me neither.
Author Phil Callaway tried.
To Be Perfectly Honest: One Man's Year of Almost Living Truthfully Could Change Your Life. No Lie. is Callaway's journey of 365 days trying to be completely honest. And lets be honest here… try is the operative word. Because he failed. Often.
I. Loved. This. Book.
I loved it enough to actually purchase it after my free copy from WaterBrook Multnomah expired. Yes. I loved it that much.
I laughed heartily at Callaways' attempts to be honest — both when he succeeded and when he failed. I followed his trials as he battles with lust, a former friend trying to ruin his reputation, his attempts to help an "adopted son" quit smoking, his chasing quick wealth, and the decline and death of his mother.
The chapters all have a definite message, and are written like a daily diary. It's an easy read, but more importantly its chocked full of lessons. I not only finished this book filled with joy from chuckles, I finished it with a mind full of the deep lessons it contained.
I would without a single doubt recommend it to anyone and everyone.
Disclosure of Material Connection: I received this book free from the publisher through the WaterBrook Multnomah Publishing Group book review bloggers program. The opinions I have expressed are my own.