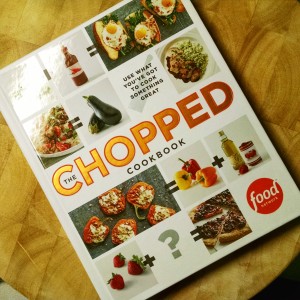 Confession: I am addicted to the show Chopped. I DVR it. I have judges I love. I have judges I hate. I get really invested in the contestants through the course of an episode. I really don't think I've missed an episode.
So when I heard about The Chopped Cookbook I got excited. I got twice as excited when the opportunity came to review it.
I love this cookbook. It's not just a cookbook with recipes telling you how to make delicious and unique dishes, it helps explain WHY the dishes work. So, its not just a hot-to-make book, it's also full of great lessons like how to find the perfect fruit or vegetable, how to make different sauces, and go-to guides in herbs and cooking techniques.
The best thing about this book, though? It focuses on items you probably already have in your kitchen. It builds great recipes on items that most people buy anyway. This is where the book differs from the show… no crazy chicken feet or obscure fruit from a remote place in China. Just basic home goodies made great.
I have a weakness for cookbooks. I have a LOT of them. But there's one thing for sure: The Chopped Cookbook is going to stay at the top of the pile and is destined to be smudged and stained from use.
Disclosure of Material Connection: I received this book free from the publisher through the WaterBrook Multnomah Publishing Group book review bloggers program. The opinions I have expressed are my own.