The other day, it hit me. I am craving a great fiction novel.
I grew up an avid reader. My passion and interest in writing is borne of years of devouring books — often more than one in a day. But over the last 10 years, that interest as fallen off due to things like work, the internet, and other things that fill my time and focus. What reading I do is for review programs, most of which are usually  non-fiction and motivational in nature.
Don't get me wrong! Those are great!
But I wanted fiction. Like I told my husband, I want a chick flick in a book.
I told my parents about my urge to read, and Mom mentioned that my brother recently visited a Half Priced Books store where my sister-in-law picked up armloads of books to read — most of which cost her about a dollar each!
So, I googled, "half price books nashville tn" and I was directed to McKays Books a bit west of town. So, my parents, my husband and I made the trip out to see what we could find.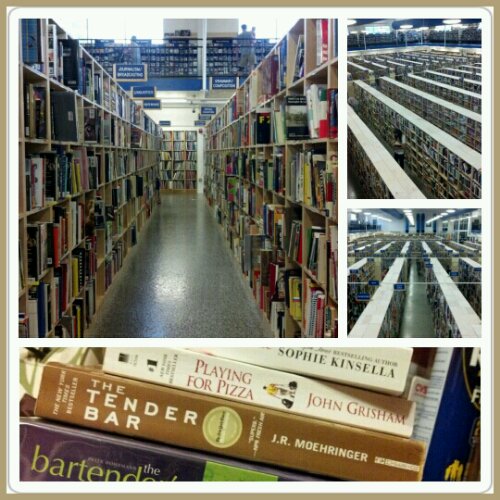 I was in heaven. Absolutely in heaven. Books, music, movies… I wanted to bring in a cot and just sleep there for a few days… weeks… ok maybe a few months.
It didn't take long for everyone to split up. I started in fiction, then eventually ended up pouring over photography books. I discovered Dad over in the financial section. Mom was in the motivational books section. And my husband indeed up in CDs picking out some to buy. We ended up, collectively, leaving with 11 books, 2 DVDs and 6 CDs. We spent about $46 total. For everything. Including tax.
My husband and I agreed we'd be going back regularly. I can already feel my passion for reading being revived with this trip to McKay's. And I love it. So good to be reunited with a part of yourself that has been left dormant for much too long. I am most definitely happy!!