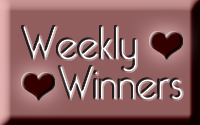 Started by the lovely Lotus, Weekly Winners is a fun little thing bloggers do to showcase some of their favorite photos from the previous week.
Visit Lotus' site and check out her various entries, and find other participants. See some amazing photos brought to you by bloggers around the world. Leave a little love when you do — its like food for the soul!
Photos taken using my Droid Razr, Nikon Coolpix L20
or Sony DSLR A230.
View all of my photos on my Flickr stream.
♥♥♥
It came to my attention that Google Chrome users have been blocked from viewing my blog due to malware warnings being thrown from my other domain name that I use to host some of the images in my design. Upon deeper inspection (and a day-long lesson in site hacking) I discovered the index page of that domain name had indeed been infected with a Trojan. The virus has been removed due to my having a back-up of that site to upload and overwrite the bad files. However, work is still being done to investigate where it came from in the first place — so it can be avoided happening again (or getting worse!). In the mean time, Firefox and Explorer users should be fine to view this blog, but Chrome is still getting blocked. Once I know any backdoors are buttoned up, I'll go through the process of un-blocking my site on the Google network.
In the mean time, some of my favorite photos from the last week:
♥♥♥